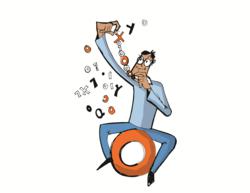 SIOM recognizes that analytics is a must-have skill for all business managers in today's workplace. Jigsaw Academy's workshop used industry examples to give students a flavor of the real world application of analytics -
Professor Venkatesh, SIOM
Bangalore, India (PRWEB) January 22, 2013
Jigsaw Academy announced the launch of its new data science and analytics program which is designed specifically for business managers and MBAs. Analytics experts from the US, UK and India have come together to create this new offering.
"With every business becoming more and more data-intensive, there is a strong need to equip tomorrow's managers with the skills to analyse and visualize data effectively" says Sarita Digumarti, co-founder of Jigsaw Academy. Sarita has taught data science and analytics to over a 1000 business school students in India and around the globe.
Leading B-schools have realized the importance of analytics in today's work environment. While some have started their own analytics-focused programs, finding analytics experts who can teach effectively is a big challenge. This is where Jigsaw's unique online platform makes a difference. Jigsaw Academy conducts all its training programs online, and this allows them to bring in analytics experts from around the globe and not be geographically constrained.
"We have a pool of analytics experts from countries such as the US, UK, Portugal, France, Singapore and of course, India. This has allowed us to develop content in highly specialized areas such as credit scoring, fraud modelling and market mix analysis" says Gaurav, CEO of Jigsaw Academy. "If we were restricted to one city or even a country, we would not be able to find these niche experts to teach for us".
Jigsaw Academy has conducted data science and analytics training programs for some of the leading MBA colleges in India.
Professor Venkatesh, from Symbiosis Nasik, was all praise for Jigsaw's courses. "SIOM recognizes that analytics is a must-have skill for all business managers in today's workplace. Jigsaw Academy's workshop used industry examples to give our students a flavour of the real world application of analytics in business" he said.
Raju Varansai, director at New South Wales University, Australia, is another one of Jigsaw's fans. "The Foundation Course in Analytics was very well presented by three highly qualified presenters who had deep and diverse business knowledge in analytics. The course had the right balance of theory, practice and case studies" he was quoted as saying.
MBA students who have undergone Jigsaw's analytics training programs found them to be useful and industry-oriented.
"Jigsaw Academy's foundation course not only teaches all the theoretical concepts but also how to apply them effectively in reality. The case studies build our fundamentals very strong" says Vinoth Balu, MBA student from NIT Trichy.
"I think that the course is designed in a very simple manner which makes it easy to grasp. It focuses on the current analytical tools and techniques which are being used in the industry" says Nitesh Ranjan, MBA students from IIT Madras.
Data science and analytics have become the need of the hour and business managers need to ensure they have the right skills to cope with the demands of the work place. Jigsaw Academy has taken a step in the right direction by crafting a course specifically for MBA students.
Jigsaw Academy plans to launch a new certification in data science and big data analytics using R and Hadoop by the end of next month.
About the Company
Jigsaw Academy offers online training in business analytics. Their courses have been created by industry experts who have applied analytics to solve business problems in various domains. Participants will learn industry best practices, useful tips and tricks from analytics professionals from fields like retail, financial services, FMCG, telecom and healthcare.
Website: http://www.jigsawacademy.com
Blog: http://www.analyticstraining.com
Mail: info(at)jigsawacademy(dot)com
Ph: +91-98805-44099