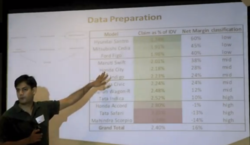 "With The Harvard Business Review calling Analytics, 'The sexiest job in the 21st century', a career in Data Science should be one of the most sought after careers for MBA graduates." , Gaurav Vohra, CEO, Jigsaw Academy
Bangalore, India (PRWEB) February 26, 2013
Jigsaw Academy, a premier online analytics training academy began its tour of Business Schools in India earlier this month. Having recently launched a Data Science and Analytics training programme exclusively for MBA students, Jigsaw wanted to personally engage with B School students. "The idea of the tour was to conduct a series of workshops to spread awareness about the emerging field of data science and to sensitise the students as to why analytics is crucial for managers of the future", said Gaurav Vohra, CEO and co founder of Jigsaw Academy.
"Indeed data has proliferated the business environment and not only do businesses require dedicated analysts to manage their ever growing data needs but it has become imperative for all managers to have data science skills", said Sarita Digumarti, co founder Jigsaw Academy.
"With more than 1500 MBA institutes in our country today, we have a plethora of business graduates each year, all eager to sharpen their skills and have an edge over their peers. They want to know what the best jobs in the industry are and what skills are needed to get those coveted jobs", said Gaurav.
"With The Harvard Business Review calling Analytics, 'The sexiest job in the 21st century', a career in Data Science should be one of the most sought after careers for MBA graduates. The industry predicts a huge shortage of analytics professionals with the Times of India declaring, 'that for every 100 analysts required, we have only 20 available'. Hence it is vital that MBA graduates keep up to date with the analytics industry. Those that are interested in pursuing a career in data science must be able to obtain the necessary skills they need to succeed.", continued Gaurav.
Jigsaw kick started their tour in Bangalore, with a workshop at the renowned Indian Institute of Management. In the following weeks they visited The Xavier Institute of Management and Entrepreneurship, Mount Carmel Institute of Management and St. Josephs college of Business Administration. Gaurav began the workshop by telling the students about the dearth of analytics professionals in India and the great career prospects that the field of analytics holds for those who wish to pursue it. He explained what data analytics means and why it is critical for businesses to be able to talk to their data. The workshop went on to cover the different sectors that use analytics, as well as salary scales and career growth paths.
There are several analytical tools like SAS, R and Hadoop that are widely used today. Gaurav gave the students an overview of these tools, and took them through some cool applications of analytics. The students were surprised to learn that the success of many familiar applications like Facebook and Linkedin, or even their mobile service operators, is the result of analytics. He then outlined the skills analysts need - a penchant for numbers, a logical and analytical mindset and a thirst for knowledge.
The workshop ended with Gaurav giving the students a brief insight into Jigsaw's Data Science course for MBA students. The student responded enthusiastically and had several interesting questions for Gaurav. Says Krupa, a student from Mount Carmel Institute of Management, who attended the workshop, ""Few of us knew much about analytics until we attended the workshop on business analytics conducted by Jigsaw. We were glad to know the potential demand for a data scientist in India and abroad. We were exposed to information about all the necessary skills one must have to be a good analyst and how Jigsaw could enable those skills in us. An industry expert said that 'analytics is the new oil' and Jigsaw had us convinced indeed."
About the course
Jigsaws Data Science Course for MBA students has been designed by aanalytics experts from the US, UK and India. The course has a right balance of theory, practice and case studies and will equip students with the analytic skills, tools and techniques that are essential for managers.
About the company
Jigsaw Academy is a first of its kind learning academy that provides industry-relevant e-training and education in the field of analytics to develop business-ready professionals. It's carefully-designed courses are a unique blend of statistics, statistical tools and industry knowledge, all taught through real life examples.
Website: http://www.jigsawacademy.com
Blog: http://www.analyticstraining.com
Mail:info(at)jigsawacademy(dot)com
Ph:+91-98805-44099