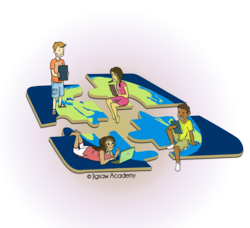 The retail course course is filled with real life anecdotes and business examples which is what makes it so interesting. I highly recommend this course.
Bangalore, India (PRWEB) June 11, 2013
Jigsaw Academy, a premier online analytics training companies, announces the launch of its video based courses in Retail Analytics, Financial Analytics and Analytics with R. "The mix of video, interactive Q&A sessions and application oriented real life case studies will create a dynamic learning environment for our students," said Gaurav Vohra, CEO and co founder of Jigsaw Academy.
These 15-20 hour self-paced video courses have been created by industry experts who have applied analytics to solve a variety of business problems in diverse domains. The video courses allow much flexibility, as students can start the course at any time. It also works out to be more cost effective. "The big advantage of our video courses is offline faculty support. Participants will get access to faculty via email, phone or Skype for help with the course as required. They can even set up one on one time with trainers to go through concepts that you find challenging," says Sarita Digumarti, co founder and faculty at Jigsaw Academy.
Other benefits include access to Jigsaw Academy's virtual lab, where students are able to work on real life business datasets. Participants can also access a variety of resources, reference materials and guides via the learning centre.
"As a part of the course, participants also get time for live Q&A sessions on a fixed schedule with the faculty for the course, where they can get help with assignments, concepts covered, and any other content related questions. All these sessions are also recorded, and participants get access to recordings to review material or to make up for any missed Q&A sessions," continues Sarita.
"Jigsaw faculty is always knowledgeable and seem like they enjoy teaching. The retail course course is filled with real life anecdotes and business examples which is what makes it so interesting. I highly recommend this course," says Jigsaw student Nakul Dogra, a Research Manager at IMRB.
The emphasis of the Retail Analytics Course is on developing a comprehensive and intuitive understanding of retail as a business, and how and where the application of analytics helps retailers. At the end of the course, participants will acquire a thorough and intuitive knowledge of the retail domain. They would have also got hands-on experience in application of retail analytics through a series of case studies on category management, customer profitability analysis, marketing mix modeling and store clustering using the SAS language.
The Financial Analytics Course emphasizes on the application of analytical algorithms to the risk and marketing functions within the financial services sector. The course provides an understanding of how analytics is used to solve business problems like campaign management, credit scoring, and fraud detection using the SAS language. Participants will acquire knowledge of the financial services domain with a focus on Banking, Credit Cards, Loans and Insurance. They will get hands-on experience in building regression models and using other statistical techniques on real business data sets to solve real business problems.
The Analytics with R Course enables students to develop data analytics applications using R, while having a deep understanding of the capabilities of the R language. They will learn to manipulate large data sets in R and develop regression and clustering models and study real-world problems and related solutions.
About the company
Jigsaw Academy is a first of its kind online learning academy that provides industry-relevant e-training and education in the field of data science and analytics to develop business-ready professionals. It's carefully-designed courses are a unique blend of statistics, statistical tools and industry knowledge, all taught through real life examples.
Website: http://www.jigsawacademy.com
Blog: http://www.analyticstraining.com
Mail:info(at)jigsawacademy(dot)com
Ph:+91- 9243522277