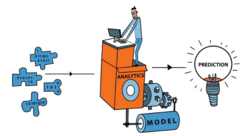 "There are a lot of professionals out there who are fascinated by analytics and want to know more about the field. We have created a repository of resources that someone who is looking to enter into the field of analytics will find really useful,"
Bangalore, India (PRWEB) December 11, 2012
Professionals around the globe are looking to fast-track their career by equipping themselves with analytical skills. Jigsaw Academy, a premier analytics training academy, announced the launch of its new website. The new website has a host of new features including richer content and more video based courses. One of the most interesting additions to the website is a section called "Learn Analytics". This section caters to those who are interested in the field of analytics.
"There are a lot of professionals out there who are fascinated by analytics and want to know more about the field. We have created a repository of resources that someone who is looking to enter into the field of analytics will find really useful," said Sarita Digumarti, co-founder of Jigsaw Academy.
"We have content in the form of articles, videos and even e-books that cater to analytics beginners. We decided to make the content freely available in order to spread awareness about this fast-growing field," explained Sarita.
Jigsaw Academy's panel of experts has compiled 2 e-books on analytics.
"The Beginner's guide to analytics is a much-needed resource about analytics as a career choice. There are a lot of people out there who are interested in building a career in analytics but do not have access to some basic information. What kind of work do analysts do? How much do they earn? Which industries and companies employ analysts? How can I connect with the global analyst community? The e-book answers all of these questions and a lot more" explained Gaurav Vohra who runs Jigsaw Academy along with Sarita.
Beginner's Guide to Logistic Regression using R and Excel focuses on logistic regression, one of the most popular predictive modelling techniques in business analytics.
"Logistic regression is a very popular technique. We want to give our readers a flavour of analytics through this e-book. We wanted to keep it simple and interesting. Hence we use data from the sport of Cricket to illustrate how this statistical technique can help solve problems and make decisions" Gaurav elaborated.
In addition to these resources, Jigsaw Academy has made a lot of videos openly available to its readers. Their Youtube channel is a great place for videos on analytics using the SAS and R languages.
With demand for trained analytics professionals hitting the sky, the new addition to online resources on analytics from Jigsaw Academy has come at the right time.