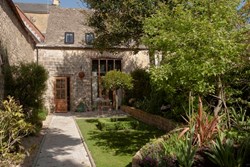 The Wool Barn is a charming property for guests seeking the perfect English countryside escape...
Witney, UK (PRWEB) September 02, 2013
Premium holiday cottage rental agency, Jigsaw Holidays (http://www.JigsawHolidays.co.uk), announced today the introduction of "The Wool Barn" to its portfolio of luxury Cotswold properties available for short and medium-term rental. Further information about The Wool Barn can be found here: http://www.jigsawholidays.co.uk/cotswold-cottages/wool-barn/
The Wool Barn is an elegant period home dating back to 1750, when the property was used to spin and store wool. The two-bedroom house has been restored and transformed into a chic country escape in the spectacular surrounds of the Cotswolds.
Featuring exposed Cotswold stonework and a wood-burning stove, this dog-friendly cottage provides a charming setting for the quintessential English countryside holiday.
The ground floor features an open plan kitchen, fully fitted with a dishwasher and washing machine. The living room is bright and airy with floor-to-ceiling windows and doors that open onto a beautifully maintained country garden and patio. The master and second bedroom are located upstairs, where guests can also enjoy a relaxing drench shower.
Jigsaw Holidays representative Anna Phillips explained "There is no better way to experience the English countryside than in the heart of the Cotswolds." She continued, "The Wool Barn is Cotswold country chic at its finest and Jigsaw Holidays is thrilled to add this charming cottage to our portfolio of holiday homes."
"We have seen an increase in the number of people choosing to holiday in England," added Ms. Phillips "and The Wool Barn is ideally located for guests who are eager to explore this picturesque region of England."
Located just behind the high street in the thriving market town of Chipping Campden, The Wool Barn benefits from having the delights of the town on its doorstep. A selection of fine pubs, delis and restaurants are within walking distance and guests can find many more in nearby villages. The Cotswold Way begins in Chipping Campden and offers miles of stunning scenery on the way to Bath Spa, including the honey coloured stone cottages and thatched roofs characteristic of this North Cotswolds destination.
Guests of The Wool Barn will be spoiled for choice with incredible National Trust properties and gardens nearby, including Snowshill Manor and Lavender Garden, Hidcote Manor, Chedworth Roman Villa, Batsford Arboretum and Broadway Tower. Day trips to historic Oxford, Bath Spa, Royal Windsor and Shakespeare's Stratford-upon-Avon can be made with ease from the property.
In addition to the facilities offered by the property itself, Jigsaw Holidays can also provide guests of The Wool Barn with housekeeping, childcare and concierge services. The cost for one-week rental at The Wool Barn starts at £485 and short breaks from £321. More information about this property can be found on the Jigsaw Holiday website: http://www.JigsawHolidays.co.uk.
About Jigsaw Holidays
Jigsaw Holidays is a holiday booking agent specializing in the provision of superior quality cottages and character properties for rental in the Cotswolds, Gloucestershire, Dorset and Oxfordshire, UK.
Each property is personally inspected before being offered for rental and the company has extensive local knowledge to draw from when helping to plan holidays for their clients.
Jigsaw Holidays was established in 2007 and is based in Witney, Oxfordshire - UK. More information about Jigsaw Holidays and The Wool Barn can be found on the Jigsaw Holidays website: http://www.JigsawHolidays.co.uk.