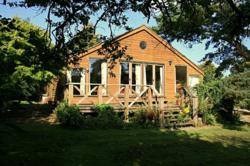 People are starting to fall in love with the English countryside again, and more visitors are coming over from Europe
Witney, UK (PRWEB) July 02, 2012
Witney-based Cotswold Cottages agent Jigsaw Holidays today announces the addition of "Pinnock Lodge" to its portfolio of premium Cotswold Cottages, available for short and medium term rental.
"Pinnock Lodge" is located on a family run farm, in the village of Pinnock in the North Cotwolds.
The Lodge is a one level building, which offers a double bed and three single beds. The cottage also offers a fully fitted kitchen, TV with DVD player and Freeview.
Jigsaw Holidays representative Anna Phillips explained, "Pinnock Lodge is a welcome addition to our portfolio. It's a perfect getaway for families and friends that want to get back to the country lifestyle and relax and being on a farm it's a great place for families with young children to experience a different lifestyle."
"We have seen an increase in the number of people choosing to holiday in England," added Ms Phillips. "People are starting to fall in love with the English countryside again, and more visitors are coming over from Europe. And Pinnock Lodge is well placed for all."
Pinnock Lodge is located in the village of Pinnock. A short drive away leads to Sudeley Castle, in Winchcombe , which also has Tearooms, pubs and restaurants.
In addition to the facilities offered by the property itself, Jigsaw Holidays can also provide guests of Pinnock Lodge with a catering, daily housekeeping, childcare, taxi and concierge services.
The cost for one week rental at Pinnock Lodge starts at £430 and short breaks from £285. More information about this property can be found on the Jigsaw Holiday website.
About Jigsaw Holidays
Jigsaw Holidays is a holiday booking agent specialising in the provision of superior quality Cotswold's Cottages and character properties for rental in Gloucestershire and Oxfordshire, UK.
Each property is personally inspected before being offered for rental and the company has extensive local knowledge to draw from when helping to plan holidays for their clients.
Jigsaw Holidays was established in 2007 and is based in Witney, Oxfordshire - UK.
More information about Jigsaw Holidays and Pinnock Lodge property can be found on the Jigsaw Holidays website: http://www.JigsawHolidays.co.uk