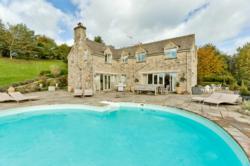 ...Springfield Country House is an undeniably stunning property with breathtaking views of the stunning rural Cotswolds...
Witney, UK (PRWEB) February 26, 2013
Luxury Cotswold cottages agency Jigsaw Holidays based in Witney, Oxfordshire, announced the addition today of "Springfield Country House" for their portfolio of premium Cotswold properties available for short and medium term rental. Further information can be found here: http://www.jigsawholidays.co.uk/cotswold-cottages/Springfield-Country-House/
Springfield House is a rural property in Rendcomb, near Cirencester. On the ground floor there is a dining hall with wood burning stove, fully fitted kitchen with Aga and living area, and laundry room. There is also a separate living room with grand piano, large LCD TV with Freeview, DVD player, B&O CD system and open fireplace and a conservatory with French doors leading to a south facing terrace with swimming pool. There are also tennis courts on site.
The upstairs of the property provides sleeping accommodation for up to 12 guests in five en-suite bedrooms, most of which feature king size beds. Wireless broadband is available.
Jigsaw Holidays representative Anna Phillips explained "Springfield Country House is an undeniably stunning property with breathtaking views of the stunning rural Cotswolds. Oozing stylish country chic from the charming kitchen to the luxurious bedrooms this property is a wonderful home away from home. With its open fireplaces and luxurious seating for those winter evenings or the outdoor pool and sun loungers for a perfect summer's day will make it difficult to drag yourself away from this beautiful rural gem. "
"The rise in 'Stay-Cations' looks set to continue for the foreseeable future," added Ms Phillips. "The increase in taxes, fuel duty and decrease in exchange rate has prompted people to look at their own back garden for the perfect holiday, and Springfield Country House has all the charm and luxury required for a peaceful getaway."
Located near the village of Rendcomb, Springfield Country House provides a peaceful retreat. With the scenery of the Cotswolds on your doorstep, this area is a nature lovers paradise with deer, barn owls, badgers and woodpeckers as your nearest neighbours and plenty of walks through the valley.
The towns of Cirencester and Cheltenham are just 10 and 15 minutes away where there are regular farmers markets, and a variety of boutiques. Cheltenham also offers world renowned festivals in literature, music and science throughout the year. The Cotswold villages of Barnsley, Bibury with its famous Arlington Row, and Castle Coombe are amongst the many places a short drive away. Venturing a little further afield you will find Shakespeare's Stratford Upon Avon, historic Oxford and Bath Spa.
In addition to the facilities offered by the property itself, Jigsaw Holidays can also provide guests of Springfield House with catering, childcare, housekeeping and concierge services.
The cost for one week rental at Springfield House starts at £1995 and short breaks from £1496. More information about this property can be found on the Jigsaw Holiday website.
About Jigsaw Holidays
Jigsaw Holidays is a holiday booking agent specializing in the provision of superior quality Cotswold's Cottages and character properties for rental in Dorsert and Oxfordshire, UK.
Each property is personally inspected before being offered for rental and the company has extensive local knowledge to draw from when helping to plan holidays for their clients.
Jigsaw Holidays was established in 2007 and is based in Witney, Oxfordshire - UK. More information about Jigsaw Holidays and Springfield House can be found on the Jigsaw Holidays website: http://www.JigsawHolidays.co.uk