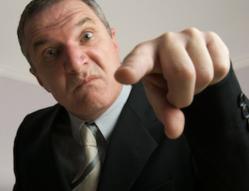 We have a no tolerance policy for workplace bullying and continue to enjoy a positive working environment because of it.
New York, NY (PRWEB) May 18, 2013
Jim Case of Carlton's Training Solutions is negotiating an initiative to provide anti-bullying training to companies for their human resource training. Of late, harassment laws are rapidly changing and forcing companies into lawsuits. In an enormous effort to respond to companies' demands of preventative methods, Carlton's Training Jim Case has made this their organization's number one priority.
According to workplacebullying.org, bullying in the workplace includes tactics like verbal, nonverbal, physical and psychological abuse and public humiliation. The majority of current cases involve management abusing authority and bullying subordinates. Often times this behavior is widely known by many employees and is ignored for fear the bullying behavior will be directed at them. Unfortunately unlike the typical forms of school bullying, these managers and employees bully people at work within the company guidelines.
Workplace Bullying has taken many different forms in the offices of employees in the United States. This form of harassment is now of great concern to the legal departments and human resources. The workplace is supposed to be a friendly atmosphere where employees can do their best and improve the status of their careers. Now the workplace has some unfortunate situations that need improvement. "The key to leadership is to be strong not rude," says Jim Rohn of Nutri-Bio.
Carlton's Training Solutions Jim Case has focused on sexual harassment in the past as it was causing the greatest amount of concern for the professional environment. But now other forms of harassment have taken hold. Physical confrontations in the workplace have led to great stress for all employees not just those involved in the fracas.
This aggressive behavior can sometimes be defined as hazing or excused as a rite of passage for new or inexperienced employees. But Jim Case and Carlton's Training Solutions have defined the long and harmful effects. Employees either under perform in their duties due to this form of harassment, or simply leave to pursue their careers at an organization that is free from bullying behavior.
According to the Washington State Department of Labor and Industries, bullying in the workplace has now been identified as a serious safety and health issue. People that have been bullied can suffer from mental health problems that can last years. This harassment has also been identified as causing serious consequences for companies as it causes reduced productivity and causes affected employees to fail to achieve workplace goals.
Carlton's Training Solutions and Jim Case have a long track record for employee development and assisting their clients with workplace issues. For thirteen years they have tackled many important subjects for numerous Fortune 500 companies. To know more about this serious subject, click on Jim Case Carlton's Training Solutions.