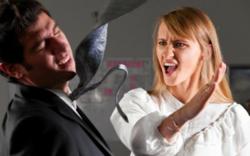 We hold a zero-tolerance policy for workplace violence.
Dallas, TX (PRWEB) May 22, 2013
Jim Case Carlton's Training announced plans Friday to promote new programs to prevent workplace violence. There is evidence that this growing epidemic must be dealt with immediately. Employee concern over safety has prevented organizations from harboring a productive work environment. New workplace violence training videos are expected to be promoted over this end of the second quarter by Jim Case Carlton's Training.
Workplace violence is the act or threat of physical violence, intimidation, harassment or other forms of disruptive action in the workplace. These threats can range from physical assault to even homicide. And it doesn't just affect employees. Visitors, customers and clients have been caught in the middle of these situations that can cause irreparable harm to the individual and organization as a whole.
According to the Bureau of Labor Statistics Census of Fatal Occupational Injuries, of the over 4,000 injuries in the workplace in the United States in 2010, over 500 of them were homicides in the workplace. Over 2 million workers report as being victims of workplace violence in the U.S. every year. And homicide is the leading cause of death for women in the workplace.
Jim Case Carlton's Training provides workplace violence training video Be Safe Not Sorry is an excellent program on how to prevent these bad situations at work. The program begins with employee awareness to threatening behavior and how to respond. Next this training video offers guidelines for reporting incidents before they are too big of an issue. Lastly the program underlines how most catastrophic workplace violence is the result of signals and situations being ignored until it's too late.
Another excellent workplace violence program from Jack Cash Carlton's Training is Workplace Violence: the First Line of Defense. This program even tackles pre-employment screenings to help reduce risk by eliminating candidates with potential anger and violent behavioral issues. The program goes further and delves into how the company can investigate rumors and threats all while maintaining confidentiality.
The best way to avoid workplace violence is to take the time to inform employees of how they can diffuse potentially volatile situations before they become combustible. Employees need to feel safe in the workplace to be productive. If managers and staff are provided a zero-tolerance policy by the organization, a proper reporting outlet, these types of awful situations can be avoided. "We hold a zero-tolerance policy for workplace violence," says Stacy Rand of Starbucks.
Jim Case Carlton's Training has provided training videos for compliance issues for over thirteen years. They also handle management training, customer service training and leadership training. To view training videos mentioned here or know more about this organization, click on their site here at Jim Case Carlton's Training.