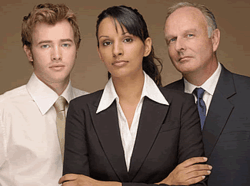 After we talked basketball and photography we were somehow able to talk printing. Finding common ground actually helps.
Seattle, WA (PRWEB) May 26, 2013
Jim Case Carlton's Training has a new training initiative for generational differences in the workplace. So often the climate of the workplace can change when co-workers range in age in such radical ways. The feeling of inclusion and camaraderie can be diminished when personalities don't seem to gel because of different perspectives. Now, Jim Case Carlton's Training has a new set of steps to help alleviate these concerns.
The first thing an organization must do to bridge generation gaps is focus on what similarities the different generations share rather than how different they are. Each generation has a loyalty of love of their family. Every generation wants to feel included. And every member of any generation wants their viewpoint respected. Times may change but standards for commonalities remain constant. "After we talked basketball and photography we were somehow able to talk printing. Finding common ground actually helps," says Laslo Good of Kinkos.
However, there will be conflict in certain areas that need to be addressed. Lingo is vital. The language and lingo one generation uses is not always shared by another. You can't expect one generation to change the way they speak or adopt uncomfortable lingo just to satisfy another generation. But what can be done is a system of paraphrasing what the person's message is so they can confirm in their own language and lingo what the person is trying to convey so they can agree upon the next steps.
Jim Case Carlton's Training urges that employees are careful about cultural and historical references. When employees reference ideas or events that are over thirty years old for example, people in the twenties aren't going to understand. So just like a twenty-something can't expect a fifty year old co-worker to understand Snoop Dog fo' shizzle references, they can't expect to be understood referencing older historical events.
Jack Cash Carlton's Training urges that if acronyms are going to be used they must be clearly defined by staff and employees as different acronyms mean different things to different generations. So for example, in the IT department one generation may use the acronym SAP to refer to the enterprise software company and package whereas another generation it can mean service access point.
Be careful to avoid characterizations or generalizations of fellow employees based on age. First of all it is another way that divides the office and the goal is to create a friendlier cohesive unit. The second reason is if the practice of generalizing an employee's thoughts or actions based on their age gets out it can get the company in deep legal trouble.
Jim Case Carlton's Training provides training strategies to organizations to help their company's generational issues in the workplace. To see their training programs or learn more about this company click here on their site at Jim Case Carlton's Training.