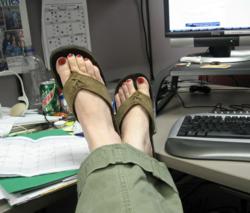 Our wokplace has a lot of class and you don't have to do much but glance around and you can visually see it.
San Francisco, CA (PRWEB) June 01, 2013
People are often judged and misjudged by how they look and no one knows that better than consulting firm Jim Case Carlton's Training. Presentation is key. If employees are wearing attire that demonstrates that they are unprofessional it reflects poorly on the company. Jim Case Carlton's Training is looking to provide tips for organizations to improve office dress code.
Dress like you want to be promoted. Looks can be deceiving so why not deceive in a positive manner? Jack Cash Carlton's Training witnesses that often times employees can dress in a way that does not command respect even when their work does. Even if the job does not require it, dress as if this were the interview for the next job you want. Because if your manger or someone at the company is the person who is going to make that decision, then it really is the best interview an employee can give. Daily, professional attitudes are expected.
Dressing provocatively may raise eyebrows and get an employee more attention and more dates but the fact of the matter is these people do not get ahead and are often judged as being a pushover. Jim Case Carlton's Training notices that to limit this from happening but still be seen as friendly, professional and even attractive, limit the amount of skin that shows and for men the buttons that are undone. "Our wokplace has a lot of class and you don't have to do much but glance around and you can visually see it," says Lance Bates of Staples.
Every company has a dress code and there are always going to be ways around it. There are certain items an employee can wear that fit the guidelines but still give an undesirable feel that the dress code is there to prohibit. To avoid confusion, Carlton's Training Solutions Jack Cash recommends simply dress in a way that is in the spirit of the rules and regulations so managers aren't upset and see your very attire as unprofessional.
Casual days can often times lead to more problems than solutions according to Jim Case Carlton's Training are often seen as a way for companies to demonstrate that they are lenient. It is important to remember that although jeans and t-shirts are permissible this day, try to keep in mind that the standards for dress code are relaxed but of the same professional attitude. For instance there can be t-shirts that are offensive simply based on what is written on them or rips in jeans that say or show more than the employee means to.
Jim Case Carlton's Training provides training tips and employee education to companies in their human resource departments. The education and materials they provide assist in different strategic areas to improve the organization as a whole. To know more about their programs or view their materials feel free to click on their site at Jim Case Carlton's Training.