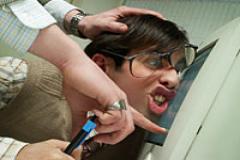 I had a boss at another company that micro-managed the heck out of me and I couldn't get anything done.
Miami, FL (PRWEB) June 07, 2013
Everyone has had a boss they couldn't stand and Carlton's Training Jim Case is addressing it in a new program. Dealing with a difficult boss is harder than dealing with a difficult customer. The customer isn't there every minute of the day for forty years causing stress, ulcers and earaches. Now, in a poignant and elaborate set of training tips, Jim Case Carlton's Training is tackling this sensitive subject.
It is not required that an employee like her boss according to Carlton's Training Jack Cash. It is also not necessary that a boss likes anyone they work with. But when it is a day-to-day grind of getting through a workday with a difficult boss, how does an employee deal? And more importantly how does that boss be someone employees like and respect?
There are many reasons why employees don't like their bosses. "I had a boss at another company that micro-managed the heck out of me and I couldn't get anything done," says Kate Mansfield of Crate and Barrel. Jim Case Carlton's Training suggests that if a manager finds himself or herself in a position where they are checking in too often they can't simply back off. The goal is to list a set of standards and let the employee prove they do not need to be micro-managed. If the complaint continues let the employee make a list and set deadlines so they know it is not the boss' fault if they have to check in more frequently.
There are bosses that are simply loud. According to Jack Cash Carlton's Training the best thing a boss can do when they discover this as a complaint is to make sure to use email and voicemail a lot. Tone can be modulated a lot better when the problem isn't right in front of the manager. If the actions of an employee can't be helped then maybe the reactions of the boss can be if self-management techniques are used.
Personal conflicts with the boss based on prior problems need to be addressed before moving forward, says Jim Case Carlton's Training. So often a boss will stomp right past a problem or disrespect an employee unintentionally and simply move on without looking into the effects that can cause friction down the road. If there is tension felt, open up the lines of communication so the employee can offer their point of view. Even if it isn't agreed upon, the employee will felt heard and can more easily gain respect and listen more attentively to requests in the future since ears were open to them.
Jim Case Carlton's Training teaches employee education to human resource departments on a myriad of subjects from professional behavior to anger management at work. Their programs can be viewed online to see the results they can provide. To see these programs or learn more about this organization, click on their site at Carlton's Training Jim Case.