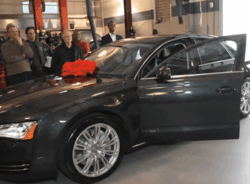 James exceeded the level of customer service.
Atlanta, GA (Vocus/PRWEB) February 22, 2011
Jim Ellis Audi of Atlanta surprised technician James Thomason with a brand new Audi A8 to drive for a year after he came to the aid of a stranded customer during the recent snowstorm that shut down Atlanta streets for nearly five days. Thomason is the winner in an Audi Corporation program called Amazing Moments. The program, designed to recognize excellent service by Audi employees, had submissions from 277 dealerships.
"James exceeded the levels of top customer service," Jim Ellis Audi of Atlanta General Manager Tracie Dean said. "He went above and beyond to surprise and delight the customer."
During January's snowstorm, James came into work to shovel ice and snow so the dealership would be ready to begin servicing cars again when the roads were clear. That same day, Audi customer Joy Loewenstine was stranded in Atlanta on her way to Ohio. When James learned of the customer's circumstances, he retrieved the vehicle, had it towed and repaired it so Loewenstine could continue her trip. James quickly repaired the car and delivered it back to Loewenstine at her hotel.
"I was overjoyed when they arrived with the car," Loewenstine said. "They were more than helpful and I was very happy to be back on my way."
"James set an excellent example for us," Audi Regional Director Don Stephenson said. "He traveled on a day when conditions were really dangerous to help out an Audi customer who was literally stranded at her hotel."
Stephenson presented Thomason with the use of an Audi A8 for the remainder of 2011.
About Jim Ellis Audi
Jim Ellis Audi of Atlanta is a full service new and used Audi dealer in Atlanta, GA, that has been in business since 1971. They carry the largest inventory of both new and used Audis in the area. Their service technicians are trained on Audi cars and SUVs, ensuring your vehicle will get the care it needs.
Browsing the dealership's new Audi inventory is easy, and they offer various ways to filter vehicles to help the customer find what he/she is looking for. They have a knowledgeable Audi parts staff ready to quickly get the Audi accessories and auto parts customers need, and answer any questions customers may have.
###