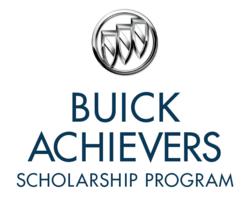 Since the inception of the Buick Achievers Scholarship Program, we have provided scholarships to more than 2,000 students from all 50 states
Buford, GA (PRWEB) January 11, 2013
Jim Ellis has been committed to serving the surrounding communities and fostering a family atmosphere inside and outside of the dealerships. Beginning in mid-January staff from the Jim Ellis Buick GMC dealership in Buford, GA will visit several high schools in their area in hopes to share the program with parents and their children for this year's scholarship opportunity.
2013 will be the third year the Buick Achiever Scholarship will be awarded to students who excel in school and will pursue degrees in engineering, design, IT, and business-related majors in the auto industry. A total of 100 high school or current undergraduate students will receive scholarships up to $25,000 a year, renewable for up to 4 years and one fifth year for specific engineering programs. One-time $2,000 scholarships will be awarded to 1,000 students.
"Since the inception of the Buick Achievers Scholarship Program, we have provided scholarships to more than 2,000 students from all 50 states," said GM Foundation President Vivian Pickard. "This scholarship helps to change the lives of its recipients, making it more affordable for them to receive a higher education."
The General Motors Foundation has already begun accepting applications for the 2013 scholarships starting on Monday, January 7 and will continue through to 5:00 pm on Thursday, February 28. Everyone is encouraged to visit http://www.buickachievers.com for more information and check back regularly at http://www.facebook.com/jimellisbuford to see the progress of our efforts.
About the GM Foundation
Since its inception in 1976, the GM Foundation has donated hundreds of millions of dollars to American charities, educational organizations and to disaster relief efforts worldwide. The GM Foundation focuses on supporting Education, Health and Human Services, Environment and Energy and Community Development initiatives, mainly in the communities where GM operates. Funding of the GM Foundation comes solely from GM. The last contribution to the GM Foundation was made in 2001. For more information, visit http://www.gm.com/gmfoundation.
About Buick
Buick is a modern luxury brand offering vehicles with sculpted designs, luxurious interiors with thoughtful personal technologies, along with responsive-yet-efficient performance. Buick is attracting new customers with its portfolio of award-winning luxury models, including the Enclave crossover, LaCrosse sedan, Regal sport sedan, Buick Verano sedan and the all-new 2013 Encore crossover. Learn more about Buick cars and crossovers at http://www.buick.com.
About Jim Ellis Automotive
Jim Ellis Automotive Group is a family-owned and operated business with multiple Atlanta dealerships throughout Atlanta, Marietta, and Buford, Georgia. Jim Ellis has served the Atlanta area for over 40 years providing sales and service of new and used cars including Audi, Chevrolet, Buick, GMC, Hyundai, Mazda, Mitsubishi, Porsche, Saab, and Volkswagen. The Jim Ellis Automotive Group strives to have a positive impact on surrounding communities through active involvement in programs and events. To learn more about Jim Ellis dealerships, browse their new and used car inventory, or find out about other community events that Jim Ellis Automotive is involved in, please visit http://www.jimellis.com.
For additional information on the GM Foundation's Buck Achiever's Scholarship program or any of our other community outreach efforts, please contact Patricia Malaver at patriciam(at)jimellis(dot)com.