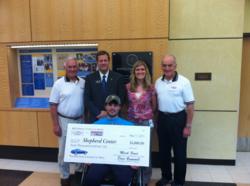 Jim Ellis Chevrolet is honored to host the event that benefits Shepherd Center...
Atlanta, GA (PRWEB) May 24, 2013
Corvette enthusiasts gathered at Jim Ellis Chevrolet on April 20th to browse one of the largest collections of Corvettes in Georgia and support a great cause during the 5th Annual Spring Corvette Show. Proceeds from the event, which is co-sponsored by Corvette Atlanta, were donated to Atlanta's Shepherd Center, a globally renowned spinal and head injury rehabilitation center that helps patients gain independence and healing.
Jim Ellis Chevrolet General Manager Mark Frost and members of Corvette Atlanta were given a tour and educated about the center's important and extensive rehabilitation work when they arrived to present the check.
"Jim Ellis Chevrolet is honored to host the event that benefits Shepherd Center in their admirable mission to help patients with spinal injuries gain independence in their daily lives," said Jim Ellis Chevrolet General Manager Mark Frost. "We hope our contribution helps to advance the incredible work they do for the people in our community who use their services."
About Jim Ellis Chevrolet
Jim Ellis Chevrolet is an Atlanta Chevrolet dealer that offers new Chevrolet cars, Chevy trucks, and pre-owned certified vehicles to the Metro Atlanta area and beyond. Jim Ellis Chevrolet also has excellent service and parts departments available for the upkeep of all GM vehicles. Jim Ellis Chevrolet is located just inside the perimeter on Peachtree Industrial Boulevard. Visit their website at http://www.jimellischevy.com for more details, including current inventory on all in-stock vehicles.
About Corvette Atlanta
Corvette Atlanta is a Corvette Club in the Atlanta, Georgia area. They are consistently ranked among the top NCCC (National Council of Corvette Clubs) affiliated clubs. They are active in a variety of Corvette enthusiast endeavors such as club social activities, road rallies, car shows and amateur competitive solo driving.
About Shepherd Center
Shepherd Center is a private, not-for-profit hospital that is one of the nation's leaders specializing in medical treatment, research and rehabilitation for people with spinal cord injuries, brain injuries, multiple sclerosis, chronic pain and other neurological conditions. Its mission is to help people with a temporary or permanent disability caused by injury or disease rebuild their lives with hope, independence and dignity, advocating for their full inclusion in all aspects of community life while promoting safety and injury prevention.