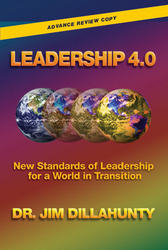 San Diego, CA (Vocus) August 18, 2009
The 21st century promises to be a time of uncertainity, chaos, opportunity, and change. And some companies, individuals and families will survive and prosper while others will not. Why? What learnable skills separate those who prosper from those who do not? If success-as-leader is critical for you and your organization; this book is a "must read:" It is the first to debunk the pervasive and false assumptions about what it really takes to become a highly effective leader. Leadership 4.0 defines the core skills required to get ahead and stay ahead in today's fractured and chaotic marketplace.
Before an organization spends money and time on motivational programs, CDs, whoopla, off-sites, and "visioneering," they should read this book.
Dr. Jim Dillahunty introduces five new paradigms that define the transformational skill sets of leadership. Without these paradigms-as-guidance systems, your leadership development efforts will consistently lead you on a wrong, expensive pathway.
Dr. Jim Dillahunty calls upon his academic research, front-line experiences as a CEO and successful entrepreneur, to present his case of what is wrong with most leadership programs. The result is a well-researched and clearly written book that takes the reader from analysis and discussion to the specific tasks needed to get leadership done right. The concepts presented are keen insights, and most importantly, they work across geographic and cultural divides—for individuals, organizations, and families.
To learn more about the author click on Books, Keynotes, Workshops, Webcasts, Podcasts, and Consulting.
If leadership is your beat, and you are interested in reviewing this Advance Review Copy of Leadership 4.0 call or email the author directly. Publication is set for December, 2009.
###