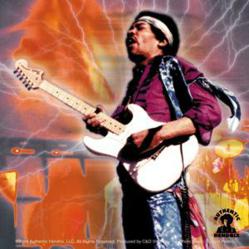 No one expected new material from Hendrix would be surfacing some 40 years after his death
Melbourne, Victoria (PRWEB) January 17, 2013
Last week Rolling Stone magazine reported that 12 previously unreleased songs from famed guitarist Jimi Hendrix will be available on March 5th. This report of the 'new' album from the guitarist has perked the ears of Shawn Scott, owner of Planet 13, an online band shirt and merchandise store, "Based on my experience in this industry, I expect to see a strong resurgence of demand for Jimi Hendrix merch."
Known for his revolutionary style of electric guitar playing, Jimi Hendrix quickly acquired a massive base of fans back in the 1960s. His unexpected passing in September of 1970 left a world of fans behind, never to hear their hero create music again.
Some four decades later, those fans are getting something they never thought possible, 12 unreleased tracks from the guitarist, recorded back in 1968 and 1969. "It's like Christmas for Hendrix fans like myself," says Shawn, "Naturally, no one ever thought there'd be new Jimi Hendrix material surfacing again."
The dozen tracks will be released under the title "People, Hell, and Angels" on March 5th this year, as reported by Rolling Stone. The release date for the Jimi Henrix material has given Shawn a rough deadline for when his online store has to be prepared for renewed interest in the guitarist, "I've been in the music industry long enough to know, whenever a new album is released, demand for that artist rises."
Shawn continues by mentioning this isn't just a regular album release, "It's material no one ever thought would come about. No one expected new material from Hendrix would be surfacing some 40 years after his death. It's amazing and that will make the wave of new fans, and their desire to own a piece of his merchandise, even greater."
He also says the new Hendrix material will not just "create a brand new generation of fans, but there will be a renewed appreciation for him." Shawn continues by saying "younger music fans out there will become exposed to his music for the first time, which will naturally lead them to learn what an important figure he was for rock and roll. And fans like me get to experience his legendary style once again."
Planet 13 has always carried a wide range of Jimi Hendrix merchandise, and with Shawn's decades of experience in the music industry, says "Whenever albums, tours, or any kind of news starts appearing in the media, we always get an increase of requests for that artist. And since this is such a unique situation, I'm expecting big, big demand."
Shawn says he's preparing for the album release by bolstering his supply of Jimi Hendrix accessories and items. "We've actually already sold out of Jimi Hendrix t-shirts, but we have quite a lot of other items available, like stickers and wristbands, which are perfectly priced for budding fans of the guitarist." He goes on to mention that his online store adds new items to their catalogue every week, so Planet 13 will be well prepared for Jimi Hendrix's fans come March.
The band merch store owner also says, "Jimi Hendrix memorabilia and items have always been hot sellers for us. He's a legend, and his appeal reaches to both young and old. I'm really proud to be a long-time supplier of official Hendrix merch. And like all Hendrix fans out there, I'm really excited to hear his unreleased material."
To see the full range of Jimi Hendrix and other band's merchandise available at Planet 13, visit: http://www.planet13.com.au
A bit about Planet 13™
Planet 13™ was conceived and created in 2004 by Shawn Scott, front man of the once-popular Melbourne based glam/punk band Voodoo Lovecats. He prides his online merch store Planet 13 as featuring an extensive range of fully licensed entertainment items, band shirts and merchandise - all while providing the best customer service around.