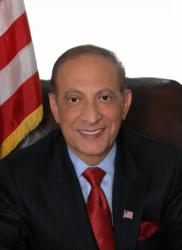 Mr. Delshad, the newest member of the Council's Board of Directors, was twice Mayor of Beverly Hills, California and served on the Beverly Hills City Council from 2003 until March of 2011.
Los Angeles, CA (PRWEB) June 30, 2011
Former Beverly Hills Mayor Jimmy Delshad, who is now Vice Chairman of Pacific Capital Group, has been appointed to the Board of Directors of the Los Angeles World Affairs Council.
The Los Angeles World Affairs Council is Southern California's preeminent public affairs forum for global issues. Public programs of the Council typically feature top representatives of foreign governments (primarily presidents, prime ministers, foreign ministers, and ambassadors), major figures in American politics and business, journalists and authors, public intellectuals and other notable individuals from fields as diverse as religion, arts and entertainment, and science and technology.
The Council today has more than 10,000 members -- drawn from most disciplines and vocations including the worlds of business, philanthropy, education, medicine, the arts, government, and aerospace.
Mr. Delshad, the newest member of the Council's Board of Directors, was twice Mayor of Beverly Hills, California and served on the Beverly Hills City Council from 2003 until March of 2011. He was the highest ranking Iranian- American elected official in the United States. During Mr. Delshad's most recent term as mayor, The City of Beverly Hills achieved a balanced budget, an AAA municipal bond rating, and the broadest international brand recognition in municipal history.
Mr. Delshad created and promoted the Smart City Initiative in the City of Beverly Hills during his tenure on the City Council and as the city's two-term Mayor. Under that initiative, the City funded innumerable smart-tech innovations – networking fiber optic and wireless systems to link police surveillance cameras, traffic lights, sprinkler and water meter systems, parking meters, auto license plate readers, disaster operation centers, and new, state-of-the-art interoperable communication systems.
Mr. Delshad has a BS degree in Computer Sciences from California State University, Northridge and an Honorary PhD from American Liberty University.
About Pacific Capital Group
Pacific Capital Group is a Los Angeles-based investment firm founded in 1985 by financier and philanthropist Gary Winnick, who is Chairman and Chief Executive Officer. PCG assists in the development and implementation of creative, global solutions on behalf of its portfolio companies.
The firm raises and provides capital, strategic direction, management development, and financing for companies in a broad range of industry sectors, including financial services, clean technology, telecommunications, healthcare and real estate. PCG's financial innovation and portfolio management have created more than $75 billion in value for investors.
Mr. Winnick and two of the companies he founded, Global Crossing and Asia Global Crossing, built the first integrated fiber optic network, a 130,000-mile global IP-based system connecting continents and countries around the world. The Global Crossing Network services 40 percent of the Fortune 500 and connects 700 cities in 70 countries.
Before founding Pacific Capital Group, Mr. Winnick was Senior Vice President of Drexel Burnham Lambert in that firm's high yield and convertible bond group which transformed the face of corporate finance and Wall Street.
Mr. Winnick is a member of the boards of the Museum of Modern Art (MOMA) and the Simon Wiesenthal Center and he is a recipient of the Wiesenthal Center's Humanitarian Laureate Award. In 2004, he received an Honorary Doctorate from Long Island University, his alma mater.
###