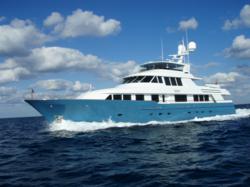 "This is a rare opportunity, as to the best of my knowledge this is the first time that Jimmy has offered his yacht for charter outside of family and friends" states Kevin Ralph, Mr. Buffett's yacht broker and President of Skywater Yachts LLC
Fort Lauderdale, FL. USA (PRWEB) February 07, 2013
["Changes in Latitudes, Changes in Attitudes", singer, songwriter and entertainer, Jimmy Buffett is making his 124' luxury motoryacht available for charter for the first time! Renowned for his songs of sailing in the Caribbean, Mr. Buffett is making the lifestyle available to a fortunate few who wish to charter his 3 deck, 124' Delta motoryacht, which is based in St. Barths in the winter and the Bahamas in the summer.
The luxurious yacht, can accommodate up to 10 guests in 5 staterooms, all with their own ensuite bathrooms. With a professional crew of 6, including a first class chef and a full compliment of "toys" – 30' RIB fishing/diving/waterskiing shore excursion boat, paddleboards, surfboards, fishing gear and lots of memorabilia.
The yacht is small enough to get into small secluded coves and anchorages, where larger vessels can't go and yet is very sea kindly, in large part due to her "Zero Speed" stabilization system, which also makes "rolly" anchorages a pleasure, so one can watch the sunset and not spill the Margarita's!
She is equipped with the latest equipment, including over 400 movies and thousands of songs on hard drive, satellite TV and high speed internet for those that can't "un-tether". She even has a 50" drop down TV on the flybridge with a large "daybed" so you can snuggle up and watch your favorite movies under the stars, while feeling the warm Caribbean breeze! All of this and more for the comparative bargain of $65,000 per week (plus expenses).
So for those that may be "Havana Daydreamin'", "come on down, the waters warm and the blenders whirring"!