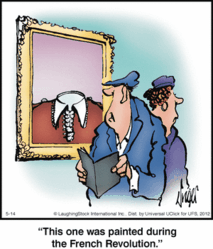 "Jim was genuinely funny on and off the comic page," says David Waisglass, creator of FARCUS® and long-time friend. "He loved to share a laugh with just about anyone."
Kansas City, MO (PRWEB) May 31, 2012
Jim Unger, award-winning Universal Uclick creator of the enormously successful and original offbeat cartoon panel HERMAN®, died Monday morning, May 29, at his home in Victoria, British Columbia, Canada.
HERMAN, which is featured in hundreds of newspapers worldwide by Universal Uclick as well as in dozens of book collections, was inspirational to many creators with his artistic wit.
The ground-breaking British-born cartoonist was twice honored by the National Cartoonist Society as Best Syndicated Panel.
"Jim was genuinely funny on and off the comic page," says David Waisglass, creator of FARCUS® and long-time friend. "He loved to share a laugh with just about anyone."
After 20 years of cartooning and thousands of original comics to his credit, Unger retired to the Bahamas in 1992. He returned to the comic pages in 1997 with the release of classic and new HERMAN material.
"Jim was a genius by any definition," says Waisglass. "He will be greatly missed by everyone who knew him and his work."
Waisglass, along with Canadian illustrator Roly Wood, assisted and collaborated with Jim Unger in his later years to create new HERMAN comics.
"It's been great working with Jim," says Waisglass, who calls Unger his mentor. "He was not just a business partner, colleague, and friend. He was truly a hilarious man with a sweet caring soul."
Unger died quietly in his home at 75 years of age.
Many HERMAN cartoons have been inspired by his beloved sister, Deborah, and her husband Danny Parker along with their three children and many grandchildren, who always lived nearby. His brother, Robert, lived with Unger and joined in writing of many HERMAN cartoons until his death in 2003. Unger is also survived by his sister, Shirley Mann, in Ottawa, Canada, and his brother Steve Unger in the United Kingdom.
In lieu of flowers and cards, the family asks that donations be made to the HEART & STROKE FOUNDATION (http://www.heartandstroke.com). Memorial comments and stories may be left on http://www.Facebook.com/hermancomics.
About Universal Uclick
Universal Uclick is the largest independent syndicate in the world and a leading digital entertainment provider of humor, comic strips, political cartoons, and other content for print, web and mobile devices. Universal Uclick provides editorial development, licensing and other distribution services for iconic brands like Doonesbury, Dear Abby, Miss Manners and some of the most significant comics in history, including Calvin and Hobbes, The Far Side, Garfield, Peanuts, Dilbert, For Better or For Worse, Cathy, and Ziggy. Recent standout successes include Lio, Cul de Sac, Pearls Before Swine, Get Fuzzy, Big Nate and The Argyle Sweater. A full comic catalog can be found at GoComics.com. For more information on Universal Uclick, visit UniversalUclick.com.