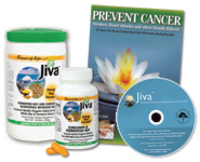 With a long and impressive history in the Natural Health and Food Industries, Adam Goodman brings a wealth of experience and contacts to the JIVA Essence of Life team
Mount Kisco, NY (Vocus) October 30, 2009
Jiva Essence of Life, LLC., a growing nutritional supplement company, has named Adam Goodman as their Sales and Marketing Consultant, starting in October of 2009. Jiva Supplements provide natural products that enhance health, boost immunity, and prevent deadly diseases through chronic low-grade inflammation.
"With a long and impressive history in the Natural Health and Food Industries, Adam Goodman brings a wealth of experience and contacts to the JIVA Essence of Life team," says Dr. Vijaya Nair. "Among other responsibilities, Adam will be instrumental in developing the JIVA broker team and in expanding its distribution network."
"I am looking forward to the exciting opportunity of helping to shepherd an emerging vendor into the marketplace," says Goodman, "It isn't often that I have the chance of working with such an efficacious, scientifically backed product line as Jiva. There are a significant number of people whose quality of life may be improved with these products."
Adam has spent a number of years in retail management for Nature Food Centers. He spent five years as a sales representative and sales manager for Health from the Sun, and was instrumental in the creation of new products, creating and implementing sales and marketing programs as well as training and educational programs. Adam has developed numerous relationships with all key distributors and accounts such as United Natural Foods, Tree of Life, Select Nutrition, Whole Foods Markets, Wegmans, Vitamin Shoppe, and Wild Oats. He is also responsible for the creation and development of several new product lines, as well as shepherding them into the marketplace. Most recently, he took on the task of recreating a key division for Tree of Life. He performed all of the tasks necessary to bring it back to an important position in the marketplace.
He has created and implemented training programs for Distributors, retailers, Major accounts such as The Vitamin Shoppe, GNC, Wegmans, and Ahold divisional stores. He is a former teacher who has worked in mixed media, and is not afraid to work from groups from 5 to 500+. He was instrumental in creating ad campaigns, and new product launches for Arkopharma/Health from the sun. He is also responsible for the introduction of more than 5 new manufacturers to the marketplace on a national basis, and has created introduction, placement, and sell-through programs for these lines.
About Essence of Life:
Essence of Life, distributes JIVA products, an evidence based and medically sound line of nutritional supplements that are carefully formulated according to scientific guidelines. Products are available to the public through the Jiva Supplements Website and natural health food stores nationwide.
###