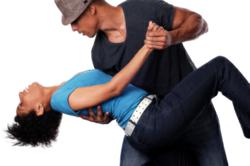 Many of our current students found us via our Groupon promotion... and then bring their friends along too.
Toronto, Ontario (PRWEB) September 10, 2012
Jive Nation Toronto dance studio kicks off their Fall season of dance classes in Toronto continuing their mission of helping beginners learn to dance in a fun and relaxed environment. Between September 9th and September 12th for just $39, would-be dancers can grab 10 opportunities to learn all the basics of modern jive partner dancing in Jive Nation Toronto's weekly modern jive dance classes at their 430 College Street studio. Jive Nation Toronto partners with Groupon once more, encouraging more men and women to take their first step onto the social dance floor.
"Many of our long-time modern jive dance students found us as a result of our past Groupon promotion," Says Nicky Heatherington, teacher at Jive Nation Toronto. "Groupon has been a great way for our dance studio to spread the word about our Toronto dance classes and introduce men and women to the fun of modern jive partner dancing.
Jive Nation Toronto's 10 Toronto dance classes for $39 feature allows adults who'd love to learn to dance the time to master their dance technique and build up their confidence through step-by-step dance beginner dance instruction that's fun and easy to follow. To take their dancing to the next level students can take a beginners Intensive dance workshop if they wish and continue with the studio's very affordable dance instruction.
Jive Nation Toronto modern jive dance classes aim to make dancing as accessible to all as possible.
"With no fancy footwork to worry about and no need for experience or a dance partner to join a dance class we get men and women dancing competently by the end of their very first dance class. With plenty of simple repetitions of dance moves during the dance classes as well as lots of practice time during each class students can quickly master enough dance basics to build their confidence as well as enjoy a social evening out.
More than just dance classes, Jive Nation Toronto modern jive classes are more like a social evening out with a dance community, every week. With this Fall 10 Toronto Dance classes promotion Jive Nation Toronto dance classes hope to encourage more adults to grace the dance floor.
Dancing is a life skill, constantly admired and a great way to keep fit and meet new people.Jive Nation Toronto dance classes make learning this skill fun and social. Jive Nation Toronto is excited at helping even more beginner dancers discover the fun of social dancing.
Looking for Toronto Dance Classes?Jive Nation Toronto Dance Studio offers fun social Modern Jive dance classes and Fast Track Beginner Dance Workshops for men and women, singles and couples in downtown Toronto. Hugely popular around the world Toronto modern jive is trendy, stylish, addictive, a great way to keep fit, the fastest way to learn to learn social partner dancing and one of the best ways to build confidence on the dance floor. Take action: Register for a Toronto dance class, sign up for a free newsletter or find out more about us. Call 416-500-3314 or visit Jive Nation Toronto Dance Classes on the Web.