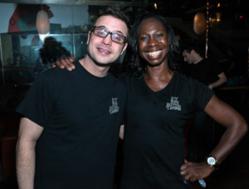 Video is an excellent resource for helping our students cement what they learn during their dance classes.
Toronto, Ontario, (PRWEB) July 19, 2012
Sunday July 22nd sees Jive Nation Toronto dance studio at the Second City Training Centre,Toronto, recording a brand new beginners modern jive dance video.
The modern jive video will be available as an additional resource for Toronto modern jive dance class students to help them cement the dance moves learned in their Toronto dance classes. The latest modern jive dance videos will add to the Toronto dance studio's ever-increasing number of online videos currently on the website and on YouTube.
The Jive Nation Toronto Dance videos will demonstrate how to build a good modern jive lead and follow technique, how to dance to a beat, how to count yourself into the beat, how to ensure the correct handholds and tips and tricks for transitioning confidently between simple dance moves to make an elegant routine.
Jive Nation Toronto's latest dance videos will feature basic modern jive dance moves, broken down with the same detailed step-by-step instruction method used in their Toronto dance classes and modern jive workshops. The videos will include teaching the moves, a walk-through of each move and a demonstration showing students how to link all the dance moves with simple transitions, plus many more tips and tricks to help their learning.
Modern Jive is one of the easiest dances to learn for men and women who are new to dancing in general and new to partner dancing in particular. Video is a great way for students to add to their dance class accomplishments between classes or should they want a refresher.
"Students love our online how to dance videos," says Nicky Heatherington of Jive Nation Toronto.
"They frequently tell us they've used them to review their previous dance lessons, or to get ideas for new dance moves. When people begin learning to dance it can take them time to master dancing without thinking about it. Once students develop their muscle memory, coupled with the Jive Nation Toronto modern jive teaching method it becomes easier for them to remember a few simple dance moves and they build from there. Videos can help students cement what they've learned and make greater progress overall."
The new beginner dance videos will be especially helpful for men learning to dance lead for the first time, those wanting to improve their dance technique and lead, as well as ladies wanting to improve their dance style, balance and technique. "The new modern jive dance videos will reinforce the techniques taught in regular dance modern jive dance classes" says Nicky. "Both leads and follows will find they can build dance confidence faster as well as have a few more dance moves to add to their repertoire and practice outside class.
We think our students will enjoy the more detailed approach we plan to present in our latest modern jive videos.Registered students will be able to review them at their own pace as often as times as they wish.
Jive Nation Toronto plans to make their new dance videos available initially as a resource for existing Jive Nation Toronto dance class students,available at an affordable fee. All Jive Nation Toronto's Dance studio's existing dance videos on Jive Nation Toronto's YouTube Channel and the Jive Nation Toronto website remain available to all.
"Modern jive is the easiest dance to learn for anyone new to social partner dancing and anyone who would love to learn to dance," says Nicky of Jive Nation Toronto. "We're always looking for ways to help our students build their dancing confidence and the team is very excited about recording our upcoming dance videos which will complement students learning in the dance studio."
Looking for Toronto Dance Classes? Jive Nation Toronto Dance Studio offers fun social Modern Jive dance classes and Fast Track Beginner Dance Workshops for men and women, singles and couples in downtown Toronto. Hugely popular around the world Toronto modern jive is trendy, stylish, addictive, a great way to keep fit, the fastest way to learn to learn social partner dancing and one of the best ways to build confidence on the dance floor. Take action: Register for a Toronto dance class, sign up for a free newsletter or find out more about us. Call Nicky at 416-500-3314 or visit Jive Nation Toronto Dance Studio on the Web.