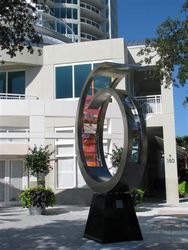 We're very pleased with the completion of the Ovation, and thank JMC Communities for another high quality project that enhances the quality of life downtown
St. Petersburg, Fla. (Vocus) September 23, 2009
A new public art structure was unveiled Friday morning, September 18, in front of Ovation , downtown St. Petersburg's newest luxury waterfront community.
"We're very pleased with the completion of the Ovation, and thank JMC Communities for another high quality project that enhances the quality of life downtown," said Mayor Rick Baker. "This artwork perfectly complements St. Petersburg and adds to our reputation as a city that embraces and celebrates the arts."
At once substantial and ethereal, "O Wave" is a circular sculpture intended by the artist to convey a strong sense of movement, with an ocean wave turning in on itself to create an abstracted "O" for Ovation. The 16-foot-tall piece is made of stainless steel, dichroic glass and other materials. Commissioner by JMC Communities , developer of Ovation, "O Wave" was created by artist Gordon Huether of Napa, Calif.
The colors and textures used in "O Wave" are meant to symbolize Florida's Gulf Coast, with its ocean waves and dramatic beachfront sunsets. Colors vary according to the viewer's angle of vision, and in direct sunlight, will project onto adjacent surfaces. Glass installed as overlapping fins is reminiscent of the scales of a fish.
"With curves that evoke nearby waters and Ovation's own undulating lines, glass that simultaneously transmits and reflects light, and reflective surfaces that capture ambient activity of nearby trees, sky and passersby, the fixed sculpture takes on a distinct animated character, creating a passively kinetic sculpture," said Huether.
Ovation was built by JMC Communities, an award-winning St. Petersburg-based developer specializing in luxurious waterfront communities, which last year celebrated its 30th year in the Florida real estate development industry. JMC has enjoyed much success over the past three decades, providing more than 4,000 homes to the state of Florida.
"Like Ovation itself, this public sculpture will be a stunning addition to the city's waterfront, enhancing the pedestrian experience of downtown St. Petersburg," said Michael Cheezem, CEO of JMC Communities.
Ovation is also home to a variety of specially commissioned artworks and artisan pieces on display for residents and visitors including two new art pieces in the lobby: "The Family" by Tampa-based glass sculptor Susan Gott and "Boats" by multimedia artist Barbara Sorensen.
About Gordon Huether
Headquartered in Napa, Calif., Gordon Huether has been creating large-scale public projects, residential commissions and fine art for more than 25 years. Through his many commissions, public art projects and art exhibitions, Huether has developed an innate sensitivity to and mastery of a variety of media. Inspired by material qualities and how they affect an environment, Huether often chooses, but is not limited to glass, neon, metal, paint, acrylic, water, light, found objects and recycled materials. All of his work is fabricated at Gordon Huether Studio by artisans who are internationally recognized for their creativity, technical ability and craftsmanship.
Huether has been awarded more than 50 public art projects around the country, including one commissioned this June by the Jacksonville International Airport Arts Commission called "Gotta Go" for the recently completed concourses A and C in Jacksonville, Fla. Other public art projects he is currently working on will be installed at civic centers in Richmond, Calif., and Tucson, Ariz., and at the Mexican American Cultural Center in Austin, Texas.
About JMC
Founded by J. Michael Cheezem in 1978, St. Petersburg-based JMC Communities is recognized as one of the top multi-family community developers in Florida. With a strong reputation for innovation, integrity and quality, JMC is committed to enriching the lives of its residents through exceptional living environments by developing communities that provide peace of mind, comfort and enduring pride of ownership. JMC is committed to providing unsurpassed value at a high level of quality from site acquisition to property management.
JMC has built more than 4,000 quality condominium homes. Projects include Minorca and Seacrest in New Smyrna Beach, Mandalay Beach Club, Belle Harbor and Sandpearl Resort & Residences on Clearwater Beach, The Bellamy on Bayshore in Tampa, Florencia in St. Petersburg, and The Grande and Meridian on Sand Key. For more information please visit http://www.jmccommunities.com or call 727-823-0022.
Media Contact:
Steve McAuliffe
(727) 823-0022
steve@jmcdev.com
# # #