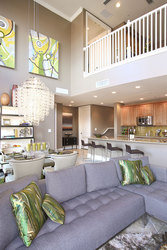 Furnished models are popular among buyers, as it allows them to begin planning and enjoying their new home without going through a lengthy design process
Clearwater Beach, FL (Vocus) July 31, 2009
JMC Communities, the St. Petersburg, Fla. based real estate development company noted for specializing in premier waterfront residential condominium properties and resorts, announced today that their award-winning Sandpearl Residences has just completed two newly designed models.
Jill Lifsey, owner of District Designs, Tampa's first modern design center, created a fresh twist on coastal living in one of Sandpearl's two-story City Homes. This model has views of both the Clearwater Harbor and the downtown area. Vibrant hues of green, turquoise and canary yellow combine with crisp lines and urban style to create a unique, stylish retreat in perfect harmony with its waterside location.
Suzan Ross's Decker-Ross Interiors designed a two-bedroom den model called "Running Waters." This vacation oasis was inspired by elements of the tropics. It boasts a coconut shell mirror and entertainment cabinet, slate fountains, glass mosaic and stone backsplash and hand-blown glass in the ceiling, among many other artistic appointments. Sandpearl Residences have sold $43 million in the past 18 months.
"Furnished models are popular among buyers, as it allows them to begin planning and enjoying their new home without going through a lengthy design process," notes Steve McAuliffe, VP Sales and Marketing of JMC Communities, developer of Sandpearl Residences. "We expect prospective buyers will find these properties exquisitely, yet very comfortably designed."
As a combined resort and condominium property, residents of the Sandpearl enjoy breathtaking views of the Gulf of Mexico, open and luxurious living spaces, room service, concierge and housekeeping services, and all of the amenities offered next door at the five-diamond quality Sandpearl Resort, including spa services, enrichment programs, restaurants and more. To arrange a property tour or for sales information, call (727)466-6785 or visit http://www.sandpearlresidences.com.
Founded in 1978, JMC Communities' (http://www.jmccommunities.com) management team combines more than 30 years of experience in residential and commercial real estate development including acquisition, design, architecture, construction and property management. JMC has built more than 4,000 condominium homes, all with the common goal of combining innovative design, intricate planning, unparalleled amenities, meticulous construction and environmental care to create communities that generate pride with its residents.
Other recently developed JMC residential communities include: The Bellamy on Bayshore (Tampa, FL); Belle Harbor and Mandalay Beach Club (Clearwater Beach, FL); Meridian and The Grande (Sand Key, FL); Minorca and Seacrest (New Smyrna Beach, FL) and currently under construction, Ovation on downtown St. Petersburg's waterfront. JMC is the recipient of such industry awards as TBBA Parade of Homes Grand Awards for the past two years at Sandpearl, VHBA Parade of Homes Waterwise Builder Award, VHBA Parade of Homes Award of Excellence, Pinellas County Builder of the Year, Southeast Building Conference Aurora Awards and multiple awards as CBA Parade of Homes Grand Overall Winner.
To view these or other Sandpearl Residences units for sale, contact:
Sandpearl Sales Center
478 Mandalay Avenue
Clearwater Beach, FL 33767
(727) 466-6785
http://www.sandpearlresidences.com
About JMC Communities:
JMC Communities (http://www.jmccommunities.com) is a Florida-based real estate development company specializing in premier waterfront residential properties and resorts that preserve and accentuate the state's natural beauty and uniqueness. In addition to Sandpearl Residences, JMC developed the LEED Silver certified Sandpearl Resort. The resort also ranked 8th in 2009 on Expedia.com's list of top hotels worldwide.
Contact:
Steve McAuliffe
JMC Communities
727.823.0022
###