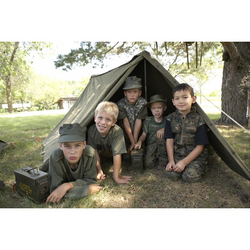 Whether that means a hunting trip with dad, reading a great book, collecting coins, camping or just playing army—all of these little adventures play a big part in his journey to manhood."
Dassel, MN (PRWEB) November 15, 2010
JM Cremp's Adventure Store for Boys launches online and catalog store in fall 2010 stocking hundreds of products and great gift ideas especially for active and adventurous young boys.
JM Cremp's Adventures for Boys was created by a father of five boys, Jay Asplin, who felt a calling to provide a unique opportunity for young boys (and the young at heart) to experience traditional boyhood as it once was by making adventure and exploration something that happens naturally—turning any day into a lifetime of treasured memories. Although getting boys back to basics was at the forefront of the birth of his idea, Asplin also wanted to create a vehicle for parents to begin to understand and appreciate God's unique design for their young boys, in turn, helping them raise their sons to be godly men.
Asplin explains his personal mission, "There came a time in my life when I had an awful realization that I was not a good father and I wasn't raising my sons to become godly men. I was going through the motions of fatherhood, but it was a distant priority in my life. In many ways, this store sprouted from my own failures and my desire to change who I was as a father. Through the process of learning how to be a better father, I also realized that boys have an innate desire for adventure. Whether that means a hunting trip with dad, reading a great book, collecting coins, camping or just playing around in kids military clothing—all of these little adventures play a big part in his journey to manhood."
JM Cremp's products encourage strong relationships between parents and the extraordinary boys in their lives! There is no denying that boys are unique! They play differently, they think differently, and they learn and develop differently. Boyhood adventures are certainly an important part of their transition into becoming a man. So, JM Cremp's helps by making it easy to create some of those great adventures. One of its major goals is to provide resources to support parents in finding activities that will help build those connections. From books, to projects such as building birdhouses, to outdoor activities like hunting and fishing and everything in-between—JM Cremp's offers a little bit of everything. In addition, there is a great selection of products and activities that the entire family can enjoy together—such as coin collecting, teaching kids about money, games, camping gear and more.
JM Cremp's has an ongoing review process, evaluating products for both quality and value. One of its top priorities is to provide boys with tools and ideas that will allow them to grow into godly men by offering products that foster the spirit of adventurous boyhood. In fact, as part of its internal review process, it has several adventurous young boys review new products right alongside the executives. If an A-Okay comes from them, then the company feels confident in passing along those products to its customers.
Check out http://www.JMCremps.com to see its complete line up and to receive a money-saving offer.
###