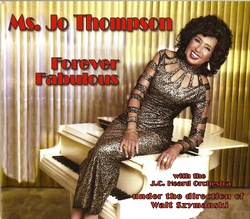 The Detroit-born singer and pianist (dark-haired, much older and sassier) is every bit as hip and hot as Diana Krall... All Music Guide
New York, NY (PRWEB) October 21, 2010
JazzJewels Digital (label) and pianist/singer, The Fabulous Ms. Jo Thompson, are proud to announce that Ms. Thompson is in consideration for the upcoming 53rd Annual Grammy Awards. On "Jo Thompson: Forever Fabulous!!!" the most beautiful, hip octogenarian you've ever seen or heard leads the J.C Heard Orchestra through fifteen cheeky gems, including an original Thompson instrumental composition, "Jumpin' With Jo." Among others, Fats Waller's "Ain't Misbehavin'" and Lieber and Stoller's perfectly apt, "I'm A Woman" are also given the treatment by Jo and the band under the direction of trumpeter/musical director Walt Szymanski. The news of her consideration for the 53rd Annual Grammy Awards was delivered a few days ago to the delighted Ms. Thompson.
Jo Thompson's recent history proves that age "ain't nothin' but a number!" She has been garnering rave reviews of late for her new show - "Thank You Lena!!!" - based on her relationship with Ms. Horne, who befriended Jo when they were both starting out. Jo's debut CD – "Slender, Tender and Tall" – was recorded and released when Jo was 74. The CD received overwhelmingly positive reviews in the jazz press, as did her supporting engagements at Michael's Pub (where she was held over three weeks in addition to her two week booking), The Blue Note and Carnegie Hall, among others.
Christopher Loudon wrote in JazzTimes: "…she's still, as Cole Porter so succinctly put it, 'got that thing'." All Music Guide wrote "..every bit as hip and hot as Diana Krall."
Ms. Thompson began her career in the 1950's, and made a swift and impressive mark performing in the swank but segregated clubs of Miami Beach. "As an African American female, I, along with other female entertainers such as Lena Horne, had to define class and sophistication," said Ms. Thompson in a recent interview on WOR Radio, NYC. "We tried to dispel and disprove ugly stereotypes that labeled Black Americans." She performed in pre-Castro Havana, Paris, London and New York among other world capitals. Her press kit is packed with articles and reviews from the present dating back to the legendary journalist, Walter Winchell, who published her first piece of major New York ink. She opted out of the international spotlight for a time to raise three sons in Detroit, where her husband was an executive in the Chrysler Corporation.
She was coaxed out of a thirty-year hiatus in the 1990's by Lionel Hampton who said:
"Jo Thompson is one of the last, great pianist/singers. She is a class act and an absorbingly wonderful entertainer."
Upon her return to the limelight, Ms. Thompson was held over for five weeks on a two week booking at Michael's Pub. She garnered a Backstage Bistro Award in 1994 in the Vocalist/Instrumentalist category. As a Backstage Hall of Fame inductee, she shares the company of luminaries Eartha Kitt, Bobby Short and Rosemary Clooney.
Ms. Jo Thompson: Forever Fabulous!!! is available at cdbaby.com.
###