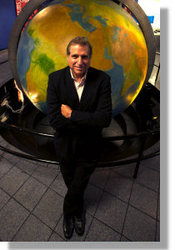 "Having millions of people around the world read your books and listen to you is an honored privilege, a responsibility, and a motivational speaker's dream that became my reality," said Joachim de Posada.
Redondo Beach, CA (PRWEB) July 30, 2010
Thousands of motivational speakers routinely deliver their messages to audiences across the United States and the world, but a little known fact is how diversity has been long in coming to this industry. For many years, Houston speaker Jimmy Cabrera, author of "What's in your Backpack?" was the sole Hispanic bearing the coveted Certified Speaking Professional (CSP) designation worldwide. In July 2010, Cabrera was joined by Joachim de Posada and Pegine Echevarria, creating a stellar trio of Latino excellence within the ranks of the global professional speaking industry and proving that their era of success has come at last.
As part of this journey, Dr. Joachim de Posada took the main stage of the National Speakers Association (NSA) Conference in Orlando, FL on July 19th, one of a handful of Hispanics to do so to this date, earning him the ovation of his motivational peers. De Posada is best known as the co-author of the book "Don't Eat the Marshmallow… Yet," a best-seller with almost 3 million copies sold around the world and translated into 20 languages.
For almost 3 decades, this bestselling author and international motivational expert has made a mark on audiences in more than 60 countries with a unique message resulting from his career in academia, psychology, business, and sports.
"Having millions of people around the world read your books and listen to you is an honored privilege, a responsibility, and a notivational speaker's dream that became my reality," said Joachim de Posada.
De Posada applies this perspective using proven principles to motivate and inspire people to reach new heights of personal and professional excellence. His clients include many Fortune 500 corporations, professional conferences, and educational forums. Joachim de Posada is also one of the few Latinos to have been invited to speak twice at TED University, a renowned forum on "ideas worth spreading". His 2009 TED presentation "Don't Eat the Marshmallow," went viral, reaching close to a million people around the world. He was recognized as one of the Top 25 Speakers in the U.S. in 2009 and continued to work toward the CSP.
De Posada reflects: "Attaining the CSP has been one of the most difficult achievements of my speaking career. The demanding requirements of the process include having a high number of clients, high-level income, collecting testimonial letters, arranging conference calls between NSA and clients, and meeting standards of record keeping. At times, the process was a nightmare, but earning the CSP has been a career-long goal for me." He says, "As I continued my speaking career I also felt duty-bound to achieve it as a Latino, since Cabrera had been sole Hispanic recipient since the NSA founding in 1974. I am proud to achieve my goal and be recognized with the CSP by my NSA colleagues."
With over 4,000 speakers in NSA ranks, only 8% have achieved the CSP designation, and they are considered best-in-class speakers within the industry.
The third Hispanic speaker receiving the CSP in 2010, Pegine Echevarria, has become of the most loved Hispanic motivational speakers in the U.S. and is no stranger to breaking down barriers of color. She was the first Hispanic woman inducted to the Motivational Speakers Hall of Fame, whose members include such luminaries as Dale Carnegie, Zig Ziglar and Tony Robbins. She has received numerous awards for her work on diversity and leadership and the Society of Human Resource Management (SHRM) named her one of 100 Global Thought Leaders on Diversity. Echevarria holds a MSW in group and organizational behavior. Her high-energy, often humorous message has motivated, educated, and empowered audiences around the world. Pegine Echevaria is the author of multiple publications, including For All Our Daughters, The Power of Choice, Sometimes You Need to Kick Your Own Butt, and Enthusiasm Creates Results. Her multidimensional journey includes urban gang membership; becoming President of a direct sales company; owning two businesses in Spain before the age of 23; stand-up comedy performance to reduce stress; and riding a motorcycle.
Upon receiving the certification, she reflected "The CSP is a deep audit of a speaker's expertise, eloquence, enterprise and ethics by the NSA in which speaking ability, business model, clients' return on investment (ROI), customer service, and follow through are assessed through client interviews and surveys. With a strict review and evaluation of five years of business practices, ethics, and client satisfaction, I passed with flying colors. There is a reason less than 600 speakers worldwide hold the designation. You simply have to be the best of the best." Echevarria further explains her commitment to clients saying, "I believe in offering outstanding value before, during and after my programs. It is all about achieving positive results for our customers and their audiences," she concludes.
"Latino Speakers Bureau is proud to offer clients a triad of CSP Hispanic keynote speakers who have distinguished themselves as high-performing worldwide motivators. We celebrate this latest achievement by Pegine Echevarria and Joachim de Posada who join CSP speaker Jimmy Cabrera at the top," says Leonor McCall-Rodriguez, founder and President of Latino Speakers Bureau.
Founded in 2002, the Latino Speakers Bureau TM is a California-based corporation representing successful Hispanic professional speakers. Every year, Bureau professional speakers travel to events across the U.S. and the globe to offer corporate, non-profit, and student audiences their message of inspiration, motivation, leadership, business expertise and the power of multiculturalism.
# # #