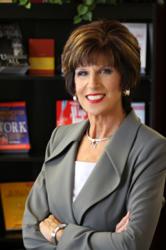 Some eighty-year-old people Live a BIG Life, and other eighty-year-old people don't. None of us knows how long we're going to live. An individual's winning approach to life and not to her longevity enables her to Live A BIG Life.
Las Vegas, NV (PRWEB) November 14, 2012
During a time when the everyday woman is needing to find more inspiration, Give Yourself Permission to Live A BIG Life is an inspiring memoir by world-class speaker Joan Burge, who offers a colorful account of self-empowerment from her personal and professional life. She speaks to women about courage, faith, challenges, and of course, the ever-powerful red lipstick.
"Every single woman is designed for greatness and for the grand adventure to live a fearless, fully functional life," says Burge. "Many people know me for my red lipstick, and it has become a symbol of inner and outer strength to go out and face the world…Red Lipstick ON!"
Burge shares her fiery trials and walks readers through what she calls the Five Pillars of life: wellness, financial, spiritual, family and career. "When we tend to each of those pillars we are able to be fully invigorated in every aspect of life and become all we were created to be," says Burge. "The modern woman is moving at Mach speed. Strengthening each pillar is paramount to tackling the multi-faceted, ever-changing roles of today's woman."
Give Yourself Permission to Live A BIG Life, ($19.95 - paperback/$24.95 - hard cover by Joan Burge, published by Live A BIG Life LLC, available at Amazon.com and Barnes & Noble Booksellers) recounts Burge's journey of self-discovery and empowerment that have enabled her to personally take control of her life, learn from, and master the steps to maximize her life experience. Women from all walks of life, too, will be inspired to "live a BIG life." Become a fan of Live A BIG Life by following on Twitter at @JoansBIGLife and Facebook at http://www.facebook.com/pages/Joan-Burge-Live-a-BIG-Life/176901719113663.
About Joan Burge:
After 20+ years of hard work, dedication and sheer "No is not an option" attitude, Joan Burge, an accomplished author, writer, speaker, consultant and corporate trainer, launches her newest book, Give Yourself Permission to Live A BIG Life. In her memoir, she provides stories that help women succeed and thrive in their professional and personal life by raising their thoughts and sights to higher levels to eventually change their lives for the better. Burge also owns and operates Office Dynamics International, a global industry leader providing high-performance, administrative and executive assistant training and coaching.
###