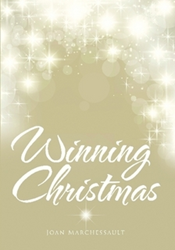 "Tracy's life becomes consumed with money and fulfilling her every desire," Marchessault says. "Once she comes to the realization about what is truly important in life, she is given another opportunity and is ready to take a completely different path."
SIMSBURY, Conn. (PRWEB) March 04, 2015
When Tracy Noble's weekly ritual of buying a lottery ticket every Friday finally pays off, her dull day-to-day existence vanishes in Joan Marchessault's new novel, "Winning Christmas" (published by Lulu).
As Tracy and her husband, Michael, navigate through the aftermath of their windfall, it is not long before greed overshadows their seemingly idyllic lives. For Tracy, the chance to finally live out her own hopes and dreams, which have been on hold for so long, leaves her marriage teetering on the brink of disaster.
As Tracy slowly begins to realize the real price of a winning lottery ticket, Marchessault explains the importance of a woman's journey of self-discovery. This concept may draw in readers who also struggle to keep the balance between their own personal identity, their family identity as a wife, mother, sister and daughter, and their career identity.
"Tracy's life becomes consumed with money and fulfilling her every desire," Marchessault says. "Once she comes to the realization about what is truly important in life, she is given another opportunity and is ready to take a completely different path."
The Noble family learns valuable lessons about family dynamics, self-indulgence and the true meaning of Christmas in this relatable story that provides readers with a fun escape into the world of extreme wealth, while also showing the consequences of such behavior.
"Winning Christmas"
By Joan Marchessault
Softcover | 5.83 x 8.26 in | 102 pages | ISBN 9781483424057
E-Book | 102 pages | ISBN 9781483424040
Available at Amazon and Barnes & Noble
About the Author
Joan Marchessault is a retired college professor who is having fun allowing her creative side to flourish. In addition to writing, she enjoys painting, dancing, reading, playing the piano and traveling to new places. Marchessault and her husband have two adult daughters and reside in Connecticut.
Lulu empowers people of all ages to explore and express their interests, passions and expertise through books, photography and art. Since introducing self-publishing in 2002, Lulu has empowered creators in more than 225 countries and territories to produce nearly two million publications. Lulu Jr. allows children to become published authors, encouraging creativity, strengthening literacy and building self-esteem. Picture.com offers professional photography of collegiate and professional sports, memorable and historic events, fine art and home décor. For more information, please visit http://www.lulu.com.