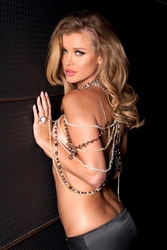 The Sexiest Woman in the World
(PRWEB) July 1, 2009
Up until late June, when Joanna Krupa was paired with NFL All-Star Terrell Owens on the ABC reality show "Superstars," the Polish born supermodel was best known as "The Sexiest Woman in the World" by magazines around the globe, including GQ, Maxim and Inside Sports.
Since her premiere episode dust-up with Owens, Krupa's had two new labels attached to her--the renowned athlete dubbed her a "prima donna" and ex-NFL star and Dancing With The Stars participant Warren Sapp called her a "Maneater."
Have it your way, Sapp--the multi-faceted beauty is about to chew up the competition on the global dance charts thanks to "I'll Be Around," the hot and sexy track she recently recorded with classically trained singer and former model Manon.
The cut, an explosive new spin on the 70s soul classic by The Spinners, was produced by Ellis Miah (Jennifer Lopez, Seal, Hannah Montana, Beyonce, Christina Aguilera) and has inspired remixes by mixing superstars Rod Carrillo (Kaci Battaglia, America Olivo, Donna Summer), Hefty Lefty (Perry Twins) and Majik Boys (Rihanna's "Breaking Dishes").
The single and album is released on Dauman Music (http://www.myspace.com/daumanmusic) and distributed by Federal Distribution in association with the Universal Music Group.
Label CEO Jason Dauman says, "What makes this fun record attractive is that it brings out the voyeur in everyone. These two ladies have a sense about them that is undeniable. I think The Spinners hit the spot back then and this hits the spot right now."
Manon, who won a national model contest and studied music and psychology before she entered the business side of the entertainment world, is ecstatic about the dream team she and Krupa have created: "I knew we would sound great together and wanted to do a sexy dance music with a sleek, cool sound that would be embraced in the U.S. and Europe equally."
Miah was excited "to witness not only one of the most attractive women to grace the cover of magazines around the world, but the birth of a new passion in these singers. Their sensuality has crossed over from the page into melody and the end result is a very sexy performance."
Carrillo adds, "Joanna's work does not stop! The song encompasses a beautiful melody and makes you get up and dance! Go Joanna, you are force to be reckoned with."
###