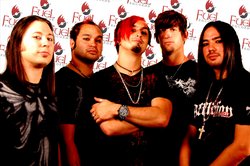 This is a really exciting time for us. We've been working so hard for this, but at the same time we also know that the real work has just begun
Orlando, FL (PRWEB) September 18, 2008
Memphis rock band Joan Red has signed a recording contract with Fuel Records, their publicist announced Tuesday. Fuel Records is distributed through Warner Music Group/ADA and the label plans to launch an extensive radio and internet campaign to coincide with their debut album scheduled for release early next year.
"We're very excited to be able to pick up an act with the energy and appeal that we've found in Joan Red" says label CEO Dave Drazen. "They are a great fit for Fuel Records."
The previously unsigned band from Memphis has been together for nearly 2 years and has risen to "virtual fame" via Myspace, in no small part due to the distinctly powerful vocals of lead singer Anthony Basurto. "This is a really exciting time for us. We've been working so hard for this, but at the same time we also know that the real work has just begun" says Basurto.
Focusing on identifying market trends within the music industry and specifically recognizing the musician's need to compete in the digital age, Fuel Records utilizes traditional industry distribution, marketing, radio and touring along with cutting edge viral marketing campaigns and digital album cards distributed to big box retailers to develop, promote and ultimately break new artists.
###