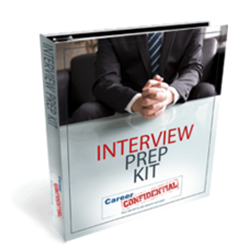 The truth is that most of the time, the very best-prepared candidate is the one who wins the job offer.
Gunter, Texas (PRWEB) January 15, 2013
With the release of Career Confidential's complimentary Job Interview Prep Kit, job seekers can complete a comprehensive interview preparation plan for pre-interview research, answering interview questions, and preparing good questions to ask that promises to make you the best-prepared candidate and make your job interview a success.
Get this Complimentary Job Interview Prep kit here: http://www.careerconfidential.com/ultimate-guide-to-job-interview-prep
Career Confidential's Job Interview Prep Kit is a 20-page downloadable "workbook" that guides job seekers through every step of the pre-interview process. It includes "how to's" for researching the company, critical interview do's and don'ts, insightful questions to ask the interviewer, and powerful answers to interview questions.
According to Career Confidential, this preparation will give job seekers a significant advantage over the competition, even giving them the ability to stand out over others with more experience.
Career Confidential is a comprehensive online job search and interview resource offering tools, tips, and advice for the job seeker. The company's CEO is nationally-known recruiter and Career Coach Peggy McKee.
According to McKee, "The truth is that most of the time, the very best-prepared candidate is the one who wins the job offer. Their preparation shows knowledge, enthusiasm, work ethic, drive, and so much more that is desirable to employers. But there are so many details to remember that candidates often miss critical elements and just don't do as well as they are capable of. This kit makes all the details of great job interview prep very easy."
Anyone can get the kit by filling out a simple name and email form on Career Confidential's site. The kit is delivered by email and can be viewed on your computer screen or printed out as a true workbook. Most sections have space for you to write your personal details to customize it for your interview.
McKee says, "The job market continues to be extremely competitive, so it's really critical that job candidates do as much as they can to stand out and be just a little bit better than everyone else. By the time you've completed this kit, you're going to feel completely confident and ready for anything."
Job seekers can also visit Career Confidential's blog for hundreds of articles and videos on the entire job search and interview process: http://www.CareerConfidential.com/blog/.
# # #
Career Confidential is a rapidly growing job search training company based in Texas that specializes in providing job seekers with powerful and customizable tools and techniques to get the jobs they want fast.
Since nationally-recognized recruiting and job search experts Peggy McKee (CEO) and Carl Chapman (CTO) founded Career Confidential in 2009, has grown from one product, the 30/60/90-Day Business Plan, to more than 30 products to guide candidates through every step of the job search.
If you'd like more information about this topic, or to schedule a coaching session, please call Peggy McKee toll-free at 1-800-691-2562 or e-mail Peggy at Peggy@CareerConfidential.com.