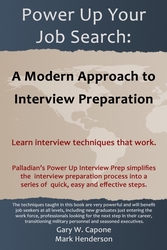 We designed exercises throughout the book to show the reader how to master the interview techniques. This book isn't designed to just give the theory on the interviewing. It shows a job seeker how to put the theory into practice quickly and effectively
Waynesboro, VA (Vocus) March 27, 2009
The job market is tight and unemployment is rising. Landing a job is tougher than ever and job seekers need every advantage they can get to win. A new book, Power Up Your Job Search: A Modern Approach to Interview Preparation, teaches interview techniques in a clear, concise, step-by-step process.
The book puts in print the interview preparation system that executive recruiting firm Palladian International developed to prepare candidates. Palladian recruits managers and executives in manufacturing, distribution and defense industries. The firm has a thorough interview preparation program that prepares candidates to interview with clients.
"We have interviewed a ton of great candidates that have trouble articulating the value they provide. Our interview prep program helps ensure that the candidate can present their true capability, and not a watered down partial image of their value," says Gary Capone, co-author of the book and Vice President of Palladian International.
Power Up Your Job Search starts with the basics of interviewing, making the techniques clear to individuals getting ready for their first interview. The book progresses on to advanced interview techniques that will benefit even the most experienced job seekers.
"An important priority for us was to ensure the book would be valuable to transitioning military personnel, and it is. The lessons I learned following my transition, both working in corporate America and later at Palladian, are at the core of the book," says Mark Henderson, COL(r) US Army and President of Palladian International.
Included with the advice and instructions is a series of exercises. Each exercise guides the job seeker to complete a short activity that will improve their ability to interview. "We designed exercises throughout the book to show the reader how to master the interview techniques. This book isn't designed to just give the theory on the interviewing. It shows a job seeker how to put the theory into practice quickly and effectively," says Mr. Capone.
Power Up Your Job Search: A Modern Approach to Interview Preparation (ISBN 9781441491534) is available on Amazon.com in paperback ($14.94).
Power Up Your Job Search: A Modern Approach to Interview Preparation has received praise from a number of executives experienced with interviewing, assessing and hiring:
"If you only read Lesson 8: STAR(L) and apply these techniques, you will become a better interviewer and interviewee. Guaranteed."
---Kerry "Pete" Pietras, Operations Learning Mgr. - Amazon.com, Former Human Resources Development Mgr. - Target Corp.
"This truly is a great book, both thorough and practical. Anybody that will use it rigorously would be sure to stand out above 99.9% of normal applicants."
---Robert Munn, Former Divisional President - Alcoa, Inc.
"A typical job candidate is unlikely to have experienced more than a couple of dozen interviews in their career, but is up against trained professionals who have conducted hundreds, if not thousands of interviews. The simple and easy to apply lessons contained in this book will not only level this playing field, but give the reader a real competitive edge!"
---Bill Ferguson, Former Director Organization and Staffing - GE International, Sr. VP HR - Inter-Continental Hotels, and Manager Flight Crew and Professional Selection - United Airlines.
"This book is a must read to prepare you for your first interview or to improve your assessment skills as a professional interviewer! To me, this is an important career development tool you shouldn't miss."
---Michael Murphy, Retired Senior Human Resources Vice President - Philip Morris International.
About the Authors
Gary W. Capone and Mark Henderson co-founded Palladian International, LLC, an executive recruiting firm in 2005. Prior to starting Palladian, Mr. Capone worked at Target Corporation, Raymond James, Kforce, Newell-Rubbermaid and PriceWaterhouseCoopers. Mr. Henderson retired from the Army at the rank of Colonel after 28 years of service, and worked for Target Corporation prior to starting Palladian. Palladian International specializes in manufacturing, distribution and defense industries. Palladian also offers a suite of career coaching services, including resume writing and interview preparation coaching. More information about Palladian's career coaching can be found at http://www.palladiancr.com and executive recruiting at http://www.palladianinternational.com.
Contact:
Gary W. Capone
Vice President, Palladian International, LLC
866-766-8447 x302
###