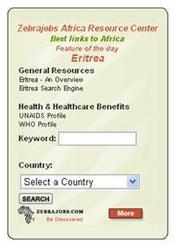 The Zebrajobs Africa Resource Center is the first one-stop link database for industry-specific and human resource information in Africa
Silver Spring, Maryland (Vocus) February 4, 2010
Zebrajobs.com is proud to announce the launch of the Zebrajobs Africa Resource Center (ZARC). The ZARC is designed to support job searches by providing resources about every industry in every country in Africa, from Banking and Finance to Farming and Agribusiness to Information Technology. In addition, a wealth of business start-up resources are available, such as business licensing, microfinance, export-import laws, small and medium enterprise services, and human resources.
Operating through a searchable and user-friendly widget on the Web site, the ZARC allows consumers to both gather information and suggest a useful link to be added to the database. Consumers can use the search widget to either obtain links for specific subjects or search more broadly through country and industry. To suggest a link, consumers can provide the link and a brief description of the Web site, and assign a specific country and industry to their link. The ZARC also allows users to rate how helpful the link was to them on a 5-star rating scale so that future uses can identify the top-rated Web sites.
"The Zebrajobs Africa Resource Center is the first one-stop link database for industry-specific and human resource information in Africa," states Dr. Jeff Hoffman, Chairman of Zebrajobs, LLC. "This is just the beginning of a wealth of information and content planned for Zebrajobs.com to become the go-to resource for people looking for jobs or starting a business in Africa." Businesses or organizations can choose from three Zebrajobs widgets to embed into their Web site or blog, offering a valuable free resource to provide content and generate traffic. Two of the widgets are specific to the Zebrajobs Africa Resource Center, exhibiting a feature of the day, while the third is for Zebrajobs.com job searches. To download the widgets, go to: http://zebrajobs.com/Arc/DownloadZebraWidgets.aspx.
Zebrajobs serves as a free online job board to connect prospective job seekers with available jobs in Africa. In addition, employers have the ability to post positions and recruit job seekers by taking advantage of the Web site's built-in advanced applicant tracking tool. Zebrajobs saw success in September with its launch of the first ever Africa Virtual Job Fair, a joint venture between Zebrajobs and the Corporate Council on Africa. The Fair enabled thousands of job seekers to virtually attend, speak with employers from more than 20 companies, and apply for available positions. The next Zebrajobs Africa Virtual Job Fair is scheduled for May 6, 2010.
About Zebrajobs.com
Zebrajobs.com, the leading online job site for Africa, offers a dynamic opportunity for employers in the public and private sectors, organizations, and other hiring entities, as well as job seekers ranging in experience from seasoned professionals to graduating students, to use Internet-based recruitment and career advisory services for their employment needs. Zebrajobs.com is a joint initiative of U.S.-based Danya International, Inc. (http://www.danya.com), and Africa-based InfoMind Solutions. To learn more about the company, visit http://www.zebrajobs.com.
# # #