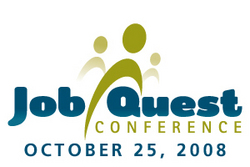 Both Dan and Catherine are recognized experts in the career services industry, and each is committed to providing our conference participants with the best strategies and practical advice they can offer.
Eugene, OR (PRWEB) October 4, 2008
Columbia Coaching Inc. will host the 2008 JobQuest Conference scheduled for Saturday, October 25th, 2008. This webinar-based event will feature six nationally recognized career service professionals, each of whom will present hands-on strategies for conducting a successful job transition in today's tough job market.
"It's a really tough time right now for people who are either looking for work or considering a job-change," said David Pierpoint, President of Columbia Coaching Inc. and host of the JobQuest Conference. "With the current turmoil in the financial markets, uncertainty about the economy, and the upcoming elections later this year, many businesses have scaled back on hiring and there's more competition for the job openings that actually do exist."
"This is exactly why an event like this is so valuable -- participants will learn the key strategies and tactics they can use right away in making their job-search more effective. They will literally be able to take action on what our career experts present as soon as the conference has ended," according to Pierpoint.
The JobQuest Conference will cover a wide range of topics, including: Career Planning, Personal Branding, Social Networking, Resumes & Cover Letters, Job Search Strategies, and Interview Preparation.
"The need for an event like this is widespread, and is why we decided to use an online webinar format," said Pierpoint. "We wanted to reach as many people as possible and not limit attendance to a specific location in one part of the country. We also wanted to eliminate all travel and lodging expenses that are typically associated with a local event, in order to save participants money and keep the registration cost as low as possible. As long as someone has a phone and an Internet connection, they can participate from the comfort of their home or office."
Conference participants can ask questions both prior to and during the moderated event, and each career expert will answer the most frequently asked questions as they apply to the topic for each hour-long segment. The entire event will also be recorded and provided to participants on a set of six audio CD's, so they can review the information after the conference has concluded. Registration for the event is limited to 300 participants, and conference organizers are offering ten scholarships to the conference. Scholarships will be based on need and other application criteria.
Participants can save $100 off the normal registration price if they register for the conference on or before October 17th, 2008.
"I'm extremely excited about the panel of six career experts we have for this event," said Pierpoint. "Both Dan and Catherine are recognized experts in the career services industry, and each is committed to providing our conference participants with the best strategies and practical advice they can offer."
Dan Moran is President of Next-Act and has spent the last 30 years managing, motivating and developing people from all walks of life. During this time, he has mastered an understanding of what is critical for success in career planning, searching for jobs and opportunities, and planning for second careers -- or next acts. Dan has assisted several hundred individuals achieve fulfillment in their career or a better job. He has helped people identify their true talents, skills and new options for their career life. "And I love doing this," stated Dan. "The saying goes -- if you do what you love, the money will follow. Everyone has a dream of what they want to do next -- I just help people clarify what it is and then help them achieve their dreams."
Catherine Kaputa is a branding coach, speaker and author of "U R a BRAND, How Smart People Brand Themselves for Business Success," winner of the Ben Franklin award for Best Career Book 2007, and a bronze IPPY award. She is President of SelfBrand LLC, a New York City-based brand strategy firm that works with people, products and companies. In her talks and workshops, Catherine reveals the principles of how to think like a brand, harness your potential, and take charge of your career and become an asset for your company, whether you aspire to the corner office, are stuck in the mid-level, or want to be more successful with clients and colleagues.
Complete details about the event, including registration information, can be found at the conference web site, http://www.JobQuestConference.com.
# # #