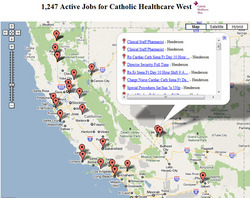 "By posting a job once, and letting it cascade to all the relevant places it should be seen – including multiple Twitter, Facebook and LinkedIn accounts, and embeddable maps – we're helping recruiters save money and do their job faster."
Charlotte, NC (PRWEB) June 28, 2010
TweetMyJOBS, the world's largest and most comprehensive Twitter-based recruiting solution, today announced a significant enhancement to its platform with Facebook, LinkedIn and Twitter integration via JobBURST™, and the availability of privately-branded job maps.
JobBURST builds upon TweetMyJOBS' heritage of enabling recruiters and employers to reach the right candidates through automated distribution. Each job opening posted through TweetMyJOBS is automatically distributed to job seekers based on geography and job type, and with the introduction of JobBURST, can also be sent to an individual or corporate Facebook account or LinkedIn page.
JobBURST is the next iteration of RecruiterConnect™, an offering from TweetMyJOBS which enables recruiters to automate relevant job tweets to their followers. In addition to integrating Facebook and LinkedIn, the new functionality extends beyond recruiters with the ability to link other Twitter accounts, including the many that companies typically establish for recruiting and corporate communication. The JobBURST Control Panel enables recruiters to manage the social media distribution of all their jobs from a single location.
Plant Your Flag with a Privately-Branded Jobs Map
All jobs posted through TweetMyJOBS are automatically tagged with location data and then populated into TweetMap-- an interactive tool that allows job seekers to search visually for jobs in their area. These maps can now be privately-branded by TweetMyJOBS' clients and embedded in recruiting sites, corporate sites or corporate intranets to enhance branding and help job seekers find positions in their area.
"A map of current job openings is a fantastic tool for branding and recruiting that could be used across our organization, but with the number of jobs we post every month it would take hours to build and maintain," said De Anne Russell, senior recruiter at St. Joseph's Hospital and Medical Center, a member of Catholic Healthcare West. "TweetMyJOBS is a great way to quickly reach the right candidates through social media, and the fact that we now have access to the TweetMyJOBS job map for our own use -- just for using their service -- is an exciting added benefit."
TweetMyJOBS is the first online job board to "geotag" every job it posts. In addition to giving clients the ability to push those jobs to all the relevant social media sites, it allows them to generate their own job maps instantly.
"By posting a job once, and letting it cascade to all the relevant places it should be seen – including multiple Twitter, Facebook and LinkedIn accounts, and embeddable maps – we're helping recruiters save money and do their job faster," said Gary Zukowski, founder of TweetMyJOBS. "There's a major shift happening right now in the way companies recruit employees, and the way people look for jobs. Both groups are moving away from the big online job boards in favor of the convenience and cost effectiveness of social media. With this platform enhancement we're offering an end-to-end solution that can deliver instant social media emersion for recruiting activities."
Availability and Pricing
JobBURST for Twitter, Facebook and LinkedIn, and TweetMap for corporate branding are available immediately with a la carte pricing for each service. For more information, visit http://tweetmyjobs.com/jobburst.
About TweetMyJOBS
Based in Charlotte, NC, TweetMyJOBS (http://TweetMyJOBS.com) is the largest Twitter job board and most comprehensive Twitter based recruiting solution in the world. TweetMyJOBS' JobBURST can handle a company's entire social media recruiting solution including branding, candidate tracking and analytics, job posting management, and connecting employers and candidates instantly through a text message delivered to a job seeker's cell phone via Twitter.
# # #