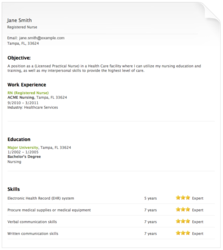 You + Our Resume Builder = You look professional!
Tampa, FL (PRWEB) August 31, 2012
Whether a job seeker is just out of college or an experienced professional in their field, making a great first impression through their resume is one of the most important steps in landing a dream job. AnyoneHiring's Resume Builder Wizard is designed to make creating a resume as simple as possible while producing a professional looking online resume.
"We've taken the time to find out what employers are looking for when reviewing resumes and created a simple step-by-step Resume Builder Wizard to make sure job seekers are displaying their most valuable information in a clean and consistent layout that employers are looking for" says Jason Jernigan, founder of AnyoneHiring.com.
A resume is often the first and only chance to make a great impression on an employer. It can take employers as little as 10 seconds to scan a resume and decide whether a candidate is right for the job. It's no surprise that resumes need to be well written and highlight the job seeker's skills to their best advantage. Creating a great resume can be overwhelming, and that's where AnyoneHiring's Resume Builder Wizard steps in. All the pain is taken out of creating the resume formatting and layout to make it look professional and consistent to employers.
The Resume Builder Wizard has broken the process down into just 7 easy steps:
1. Name the resume
2. Add contact info
3. State objective
4. Add work experience
5. Add education
6. Add skills
7. Finish and review!
The wizard has an interface that is easy to understand with separate forms to enter work experience, education, and skills. The clean design of the wizard makes entering the information quick and easy. As a bonus, job seekers with a profile on http://www.anyonehiring.com can use information already entered into their profile to populate fields in the Resume Builder Wizard to make creation that much easier.
Job seekers have worked hard, and now they can use AnyoneHiring's Resume Builder Wizard to help create a professional online resume quickly and find a dream job!
AnyoneHiring.com is a free job board that offers many features for job seekers and employers. Job seekers can search and save jobs nationally, track application history, post multiple resumes, private messaging to employers. For employers, the website offers all the professional tools their company needs to search job candidates and post jobs in a simple and user-friendly format. Some free features include: free unlimited job posting, national candidate search, historical archiving, and private messaging with candidates.