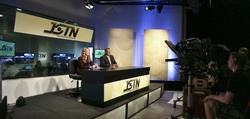 Given the scalability of JSTN, we needed to find a distribution platform for the Chicago market and beyond
CHICAGO (PRWEB) August 7, 2008
The network offers more insight about companies and their available job openings. In turn, jobseekers as well as human resources and recruitment departments of major corporations are approaching their preliminary employment searches from an entirely new vantage point.
Career opportunities featured on JSTN include a 60-second Job Report describing the available position delivered in a news format by on-air talent; and an Employer Feature, a unique 3-minute interview with a spokesperson from the hiring company.
With the U.S. Department of Labor Statistics reporting that the number of unemployed persons has increased by 1.6 million just over the past 12 months, jobseekers face more competition, while employers look for better ways to manage a growing pool of candidates. As an employment and recruitment mechanism that combines in-depth career opportunities with the company's brand identity, JSTN's approach has great appeal for both sides of the job search. For the price of posting a position on a leading job board, now any company can receive television exposure along with professionally produced video assets for posting on their job board; text posting of the video link; and presence on http://www.myjstn.com.
The in-depth job profile not only allows candidates seeking employment to examine their own qualifications, but it also helps them consider real life circumstances such as the workplace environment and if they are well-suited to the company culture. In essence, each side stands better prepared to seriously focus on finding the right match.
The network approach was conceived by co-founders Roger Stanton and Young Jea Shin. Stanton had his sites set on creating branding opportunities for companies. Shin was interested in the possibility of using television as an employment and job search vehicle. They combined their ideas to create a network that has been described by some as the "You Tube of Recruitment".
"Given the scalability of JSTN, we needed to find a distribution platform for the Chicago market and beyond," explains Stanton. "Comcast was able to provide us with an audience of over a million digital homes. That means we're reaching several million viewers in the Chicago market alone. That exposure supports our plans for expanding into additional U.S. markets."
Additionally, Job Search Television Network needed a strategic partner for production and launching the network. After extensive research into Chicago's production options, JSTN partnered with Resolution Digital Studios to launch the network. The studio will provide comprehensive production capabilities and technical support for scaling production of JSTN into additional U.S. markets.
"We're generating assets for broadcast, web and mobile in the most rapid timeframe possible", Shin explains. "From the time we receive preliminary employment information, job segments can be produced at the studio and on the air in a matter of days."
JSTN is already attracting jobseekers as well as corporations who aim to bolster their recruitment process. Leading companies that already feature job listings on JSTN include McDonald's Corporation, Allstate Insurance, DeVry University, ENH, and U.S. Cellular.
JSTN airs every day in Chicago on Comcast channel 102. Times are Monday through Friday 6:00am–8:00am and 9:00pm–10:00pm. Saturday and Sunday 7:00am–9:00am and 9:00pm–10:00pm.
To learn more about JSTN's other job search features including Tips and Advice, VideoLink, Mobilink and to view video job reports, visit http://www.myjstn.com or call 630.402.0946.
To learn more about Resolution Digital Studios' production capabilities, visit http://www.rdschicago.com.
ABOUT RESOLUTION DIGITAL STUDIOS, L.L.C.
Resolution Digital Studios® is a 32,000 square foot state-of-the-art Hi-Def studio, production and postproduction complex in Chicago. The facility offers comprehensive full service capabilities from pre-production through production and delivery. Projects range from broadcast television programming to mobile phone applications.
Shooting and event spaces include a 5,600 sq. ft. main stage; a green screen stage; an apartment/kitchen set; and a white cyc stage with attached control room, as well as production, graphics and post suites.
Keyword Tags:
comcast, employment, employment agencies, employment opportunities, employment opportunity, human resources, Job Search, job search television network, jstn, recruitment, resolution digital studios, tv production
MULTIMEDIA GALLERY http://www.businesswire.com/cgi-bin/mmg.cgi?eid=5751468