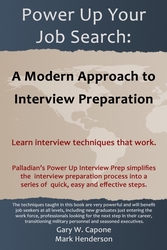 We developed the Power Up Interview Prep System to get our candidates ready to interview in our executive recruiting business. We have continued to be shocked at how poorly most job seekers interview. After numerous candidates asked for our help, we developed this book to teach the system to anyone that wants a leg up on their competition
Waynesboro, VA (Vocus) March 20, 2009
As the job market tightens, the importance of interviewing effectively becomes increasingly important. Poor interview skills can shut down a job search for even the most qualified candidates. A new book, Power Up Your Job Search: A Modern Approach to Interview Preparation , teaches a quick and easy system to prepare candidates to interview successfully.
"We developed the Power Up Interview Prep System to get our candidates ready to interview in our executive recruiting business. We have continued to be shocked at how poorly most job seekers interview. After numerous candidates asked for our help, we developed this book to teach the system to anyone that wants a leg up on their competition," says Gary Capone, co-author of the book and Vice President of Palladian International.
Step-By-Step System
Power Up Your Job Search provides advanced interview techniques that even the most seasoned executive will find beneficial. The book begins with several chapters on the basics of interviewing, providing a foundation that inexperienced job seekers will find easy to follow. With a solid footing, job seekers are then introduced to the techniques successful candidates use to excel in interviews. Throughout the book, exercises provide clear instructions guiding the reader to complete specific activities that improve interview skill.
"We set out to create a step-by-step system that, if followed, will improve a person's interview performance. The only way to achieve this was to build a training plan with specific activities to be completed by the job seeker. Many people will read the book and learn from it, but the job seekers that commit completing each of the activities will achieve exceptional results," explains Mr. Capone.
Power Up Your Job Search: A Modern Approach to Interview Preparation (ISBN 9781441491534) is available on Amazon.com in paperback ($14.95).
About the Authors
Gary W. Capone and Mark Henderson co-founded Palladian International, LLC, an executive recruiting firm, in 2005. Prior to starting Palladian, Mr. Capone worked at Target Corporation, Raymond James, Kforce, Newell-Rubbermaid and PriceWaterhouseCoopers. Mr. Henderson retired from the Army at the rank of Colonel after 28 years of service, and worked for Target Corporation prior to starting Palladian. Palladian International specializes in manufacturing, distribution and defense industries. Palladian also offers a suite of career coaching services, including resume writing and interview preparation coaching. More information about Palladian's career coaching can be found at http://www.palladiancr.com and executive recruiting at http://www.palladianinternational.com.
# # #