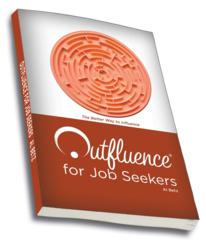 ... a good handbook ... original communication techniques you don't usually think about.
Baltimore, MD (PRWEB) September 13, 2011
"Luck is where the crossroads of opportunity and preparation meet."
This often-quoted formula, attributed to First Century Roman philosopher Seneca, seems particularly apropos for beleagured job hunters today. It's easy to embrace the notions of luck and opportunity, but less obvious what it really means to be prepared and how essential it is to success. New book "Outfluence® for Job Seekers" hands job hunters what they need to arrive at that crossroads, ready for luck at the right opportunity, prepared with the power to influence others.
An indispensable ally for job hunters, this new book by author, motivational speaker and life skills coach Al Betz reveals how to out-perform the competition at every opportunity during your search, and establish yourself for ongoing career success through inspired performance.
Refocused thinking and mastery of silent communication techniques in Job Seekers lead the reader through mental and emotional preparation, to specific ways to differentiate yourself professionally through your actions and behavior, to handling phone screenings, face-to-face interviews and follow-through, all the way to making your mark in your new position.
"Outfluence for Job Seekers is a good handbook for anyone contemplating a job change or who is already engaged in the job search process. The book offers a number of original communication techniques and highlights aspects of job hunting that you don't usually think about, which I found very valuable," according to Laura Bristow, MBA, Director of Education, Medix School.
The guidance and unconventional yet simple tools revealed in "Outfluence for Job-Seekers" are grounded in the proprietary methodologies of teaching and publishing organization, Outfluence, LLC. Dubbed "The better way to influence," Outfluence® is a communication model that emphasizes a focus on the needs and expectations of others, an awareness and management of one's own silent communication, an understanding of the silent communication of others, and a commitment to inspired performance in business and personal relationships.
Job Seekers author Al Betz, a successful multi-business owner and co-founder of Outfluence, explains:
"Seventy percent of our communication is what we don't say, delivered and received silently. Others 'hear you say' a great deal that you may not realize you're communicating. This information cannot be found in any other how-to or personal or professional development books or courses."
Job-Seekers reveals how to sell yourself with silence, whether or not you are physically present with your communication partner, for example, during a telephone or Skype job screen or interview, and whether or not you are speaking.
From veteran professional headhunter and job search authority David Perry of Perry-Martel International, author of "Guerrilla Marketing for Job Hunters 3.0: How to Stand Out from the Crowd" (Wiley, 2010):
"Fit is critical, so communication skills are the first thing a good recruiter will assess even before they've met a candidate in person. Ironically, the first thing I assess is an individual's professionalism on the phone in dealing with me -- before we have a face-to-face meeting."
"It's all about making a positive, memorable impression at every step along the way," Betz summarizes.
Available for sale as a PDF download at http://www.outfluence.com, Job Seekers will also be available in print and e-format through Amazon.com and Barnesandnoble.com.
Purchase of the book in any format includes free access to two powerful Podcasts: "Seven Attributes of Contemporary Communication" and "Five Truths About Life."
A "Job Edge" seminar with keynote address and exercises led by Al Betz can be booked for your organization through Outfluence. Reach Outfluence by phone toll-free 888-881-1660.
Job Seekers is the first title in the "Outfluence For …" series of guides that offer practical skills development and inspiration for an array of real world experiences. "Outfluence for Sales Professionals" is also available as a PDF download at Outfluence.com, and will soon be available in print and e-format.
Outfluence products and services for teen-to-adult, family, workplace, and personal enrichment are available at http://www.Outfluence.com, in books, podcasts, CDs/DVDs, workshops, and through coaching, training, and the Outfluence Professional Speakers Bureau. Reach Outfluence by phone toll-free 888-881-1660.
About the Author
Al Betz is a successful entrepreneur who has developed several ongoing businesses and enterprises, including Al Betz & Associates, a court reporting, captioning and litigation support services firm with a nationwide reputation, and Outfluence, LLC, a teaching and publishing organization.
Betz is considered a pioneer in the development of information technology that automated courtroom procedures. Through almost four decades as a master court reporter, business owner – and employer -- Al credits the "practice of Outfluence" with improving his business and personal relationships.
Al is the author of several other books, including, "Outfluence, The Better Way to Influence," "Polishing the Pearl: The Art of Professional Performance," and "PowerWriters: Stories of the World's Trusted Court Reporters & Captioners."
###