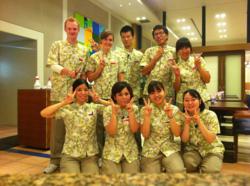 Working holiday makers can rest easy knowing they're secure and well looked after with us
Melbourne, Victoria (PRWEB) February 08, 2013
Last July, the Immigration Bureau of Japan updated their system for foreign nationals, including a new resident card and registration system. The new process increases the Bureau's ability to better manage the flow of temporary residents, giving both the Immigration Bureau of Japan and its working holiday-makers greater peace of mind. The staff at Japanese resort job placement service and internship company boobooSKI, have adjusted to the changes, "When combined with our extensive services, the revised foreign resident system including the country's national healthcare," says Adam Claydon-Platt, director of boobooSKI, "allows our staff to truly enjoy their working holidays knowing they're being well looked after."
The need to locate and contact foreigners quickly, or assist them in the event of an emergency, is a difficult task for any country's immigration department. On the other hand potential visitors can harbour fears about losing their way, or lacking funds for hospital expenses while abroad, which can be major hurdles in the decision making process for vacationers, foreign workers and interns.
Just last year, the Immigration Bureau of Japan implemented a new system to stream line their immigration process in a way that better supports holiday-makers and temporary residents while in Japan. Those foreign workers already in the country, such as resort staff from boobooSKI, are seeing benefits from the revised system, "While there's naturally a few teething issues, there's an increased feeling of acceptance of the new registration system, as it removes some of the hassle for foreigners, and adds additional coverage for any medical concerns. Japan is an amazing place for those seeking a great working holiday, and now they can rest assured knowing it's also one of the safest places to participate too" says Adam.
Upon arrival in Japan, foreign staff are issued with resident cards and must register at the relevant city office wherever they reside. When they move to a new location, they must advise the current office of their departure and then register in their new town. This process provides the country with the exact whereabouts of their foreign nationals. "While it may seem like an extra effort for staff, this is a great benefit in the event a temporary resident needs to be contacted quickly," comments Adam, "This means our staff are completely at ease no matter which city they're residing in, be it in a winter or summer resort location."
Adam further comments that the new resident card allows his holiday-workers the ability to leave and re-enter Japan as they wish, within the terms of their visa. "This feature adds flexibility to a working holiday visa because staff can travel to nearby countries during breaks in their job schedules," says Adam "however, it doesn't mean the validity of your Visa is paused while you're outside the country, so it's important to be aware of the expiry date."
Another reason for Japan's popularity with foreign staff is their national health coverage. "The recent changes to the residency system include a national health insurance requirement. Some local cities still don't request our resort staff to join, as it's completely up to the specific city's office. Overall though, it's for our employee's benefit, so it's best to budget for it."
Adam continues by saying "Joining the health system is generally very cheap, charged as a nominal monthly fee." Once joined, the Japanese National Healthcare system covers 70% of medical costs for Adam's resort staff. The fee is approximately JPY¥2,000 (about AUD$20 or GBP£14) each month during a foreign worker's first year in Japan; afterwards, payments are based on the worker's previous year's income.
Even though the Japanese health coverage "is ideal for most situations" the Japanese internship and resort staff placement director warns, "If doing extreme sports and something happens, even with 70% coverage, medical expenses could still be quite high."
For this reason, Adam still requires all his boobooSKI resort staff to take out additional travel insurance because "It still has many benefits, even though the Japanese national coverage is great. Travel insurance will cover the remainder of the portion not covered by the National health insurance, and offers additional coverage too. Having this extra bit of insurance gives much greater peace of mind if any accident occurs."
Topping up the Japanese National Healthcare system with Travel Insurance has the added benefits of covering lost items, liability, repatriation in case of emergency, flight cancelations, and insuring travel to other nearby countries. "Having both the NHI and travel insurance gives our staff the best of both worlds. They get quick, cheap, and efficient healthcare." Adam adds a further caution though by advising how important it is to "know what the terms of any travel insurance policy is, so processing times or misunderstandings don't delay the important stuff."
In addition to providing helpful information about Japan's new resident card and extensive health care system, boobooSKI offers their staff access to Japan's best resorts, airfare, visa, and insurance assistance, and 24-hour support for their entire stay in Japan.
Combining the revised immigrant system, and the country's effective health care system with their suite of services, Adam says "Working holiday makers can rest easy knowing they're secure and well looked after with us. We're really proud to place foreign workers in Japanese hotel and resort jobs - providing satisfaction with minimum hassle."
Click here to view boobooSKI's latest video about resort work in Okinawa.
About boobooSKI
boobooSKI have taken their passion for Japan to innovate working and studying abroad. They help young people from around the world secure paid work in the country's popular beach and ski hotels and resorts.
Their more recent Internship programs were created for the promotion of mutual understanding and friendship between Japan and other countries; as well as to encourage students of various degrees to improve their knowledge and skills by experiencing first-hand the internationally renowned Japanese work ethic, culture and approach to service.
To learn more about boobooSKI, visit http://www.boobooski.com or http://www.japaninternship.net for Japan Internship information.