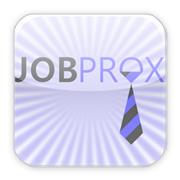 We now need to raise the funds necessary to bring the app to market.
Charlotte, NC (PRWEB) May 24, 2013
With Memorial Day around the corner, graduation season is upon us and college graduates will be kicking their job search initiatives into high gear. Competing against countless other candidates, these new graduates must learn how to distinguish themselves amongst the plethora of qualified peers. JobProx is a new location-based smartphone app that connects recruiters and employers with qualified job seekers when they are near each other to give a face to an endless stream of digital resumes and applicants.
Using the app's proximity feature, recruiters or hiring managers are alerted when they're nearby a qualified candidate. Hiring managers are then able to request a meetup and the responding party is able to select one of three options; meet now, set up a future meeting or kindly say "no thanks."
Having the ability to orchestrate a real-time interview turns out to be an optimal approach to the hiring process given the busy lifestyle of generations today. It's also important to note that JobProx app is considerate of user privacy in that users will not know who, exactly, (by name or photo) is nearby, but that someone qualified is nearby and the proximity feature can also be turned on and off at one's leisure.
"We're glad to see the app is so well received by everyone; job seekers, hiring managers, media and more," says the JobProx team. "But, we're still not there yet. We now need to raise the funds necessary to bring the app to market."
In order for the JobProx team to develop the app, they need to raise $10,000 in funding, and have looked to the crowdfunding platform, Indiegogo to do so. In exchange for supporting the app by making a contribution, the team at JobProx has come up with some awesome perks which include fun t-shirts, an interview necktie, help with resumes, the app itself and much more.
Those who are interested in supporting the location-based JobProx app can do so by visiting http://bit.ly/JobProxIndie, and making a contribution of any size. Some of the perks offered are exclusive to the campaign, so those interested should be sure to check them out before the campaign ends on June 6 at 2:59am EST.
To learn more about JobProx, visit the app's crowdfunding campaign page at http://bit.ly/JobProxIndie, Like the app on Facebook and Follow them on Twitter @JobProx.
About JobProx
JobProx is a revolutionary smartphone application that is always running in the background of your device, and will find your next job for you! You could be ordering coffee at your local coffee shop, picking up your weekly groceries or going about your daily life. When an employer sees that you are within their set proximity, and have the qualifications they're looking for, you could be on the path to receiving your next job. For more information on JobProx, visit http://www.jobprox.com.