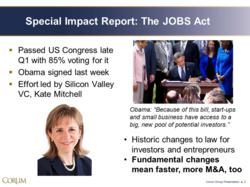 Seattle, WA (PRWEB) April 16, 2012
The recently-passed JOBS Act will increase both deal pace and valuation in mergers and acquisitions for software and related technology companies. At the Tech M&A Monthly webcast on April 12, leading technology M&A advisory firm Corum Group predicted that. The Jumpstart Our Business Startups Act, passed by large, bipartisan majorities and signed into law by President Obama on April 5, was described by the president "a potential game changer" for start-ups and small businesses.
Corum's Senior Vice President Jon Scott and Vice President and Director of Research Elon Gasper noted that the law's three sections each have provisions that will increase M&A. "This new US law heralds more and faster-moving capital, accelerating tech M&A, and driving greater variation," said Gasper. Their comments can be heard in full at the webcast rebroadcast on April 19 at 8 AM Pacific Time.
"The law's IPO Onramp makes going public easier and more gradual," Gasper noted, with a new classification for newly-public companies with less than $500 million in revenue: Emerging Growth Companies (EmGroCs). In addition to being potential acquirers with access to capital earlier, Gasper predicted that "these newly hatched EmGroCs will be faster, leaner outfits, more in touch with the market and able to quickly appraise cutting edge tech. So we expect an increased pace of M&A, and higher bids for smaller entities."
The Act also includes substantial deregulation of communication with investors, "which will mean more capital, and more demand for M&A—and that increased demand will lead to higher valuations," observed Scott.
Most prominent in the law is its provision that allows companies to "crowdfund", raising money from a large number of small-dollar investors through online portals. Gasper and Scott predict that some of these crowdfunded companies will quickly mature to buyer level, again leading to more demand. "We'll also see a broader range of acquirers, given the increased diversity that public tastes will accommodate," added Gasper. "Plus, standard companies will want to move more quickly in M&A, since crowdfunding will lower barriers to entry and enable threats to emerge sooner."
About Corum Web Events
Corum Group, the global leader in tech M&A, hosts a monthly webinar, Tech M&A Monthly, featuring up-to-date content and statistics reflecting both the M&A market of the last month, and a perspective on industry trends. Webcasts feature guest speakers, including acquisition executives from companies like Google, Microsoft, and HP, as well as private equity investors, and executives from recently acquired companies. Regular segments include the Corum Index, business valuations, panel discussions, and Q&A.