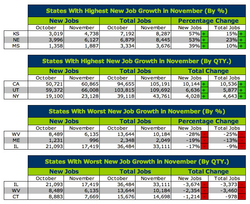 Minneapolis, MN (PRWEB) December 9, 2009
As further evidence of an improving economy, LinkUp reported today that new job listings in its job search engine rose 9% in November, while the total number of job listings in its search engine rose 4%. The Department of Labor reported this morning that in November, the U.S. economy only lost 11,000 jobs, a stunning development given the consensus estimate from economists that 125,000 were lost during the month. Unemployment dropped to 10% in November from a 26-year high of 10.2% in October.
According to LinkUp data, 34 states in the country reported an increase in the number of new job listings in November, while 35 showed an increase in total job listings. Across the nation, companies and employers listed 475,301 new jobs on their company websites, an increase of 39,496 from October. The total number of jobs listed rose by 33,208 from October to 861,128.
On a state by state basis, California, Utah, and New York added the most number of new job listings, while Illinois, West Virginia, and Connecticut saw the largest declines in the number of new job listings.
LinkUp, the fastest growing job search engine on the web according to recent ComScore data, only indexes job listings that are found on company websites. The November jobs report was based on a comparison between October and November job listings from 16,549 corporate websites around the U.S. As a result of this unique data source, LinkUp's job listing data includes no duplicate job listings, no classifieds from recruiters or headhunters, and no phishing or scam ads. Even more importantly, the jobs data is based on actual job openings that companies list on their own company website rather than the openings that companies are advertising for on other job boards or in newspapers.
To read the full November job report, go to LinkUp
###