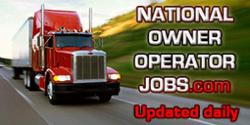 Los Angeles, California (PRWEB) January 24, 2013
Labor Department figures shows the trucking industry added 4,200 jobs last month and NOOJ is quick to help fill these jobs. The three added trucking companies are Heartland Express, CoreTrans, and Western Logistics Express.
Heartland redesigned its operations around a regional freight strategy back in 1992 in order to keep drivers running closer to their homes and closer to shippers. This wasn't just a home-time claim, it was a strategy. Heartland Express will get you home on a regular basis.
CoreTrans, LLC is based out of Somerset, KY and was founded in 2002 by Mike and Brian Whitaker. The owner, Brian Whitaker, is a 3rd generation trucker who has grown the company from 25 trucks in 2002 to over 100 trucks today. CoreTrans is a regional truckload operation with common carrier and contract carrier authority for the continental Unites States.
WLX, LLC operates terminals in Kansas and Texas and is looking to add Owner Operators and Company drivers to their team. WLX has service points across the United States and Canada, and specializes in platform truck transportation. WLX currently offers flatbed jobs nationwide.
According to the U.S. Department of Transportation Federal Motor Carrier Safety Administration, these three companies cumulatively have over 3,000 power units some of which remain unfilled; awaiting quality drivers.
NOOJ has been helping drivers across the nation find owner operator jobs since its launch in September of 2012. Their simplified job search has helped lots of drivers find work and land a new job. The process is very simple for drivers looking for find work while also an excellent resource for trucking companies that want to have a large pool of qualified applicants to choose from.