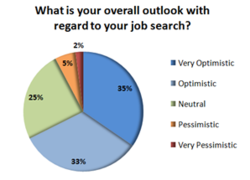 New York, NY (PRWEB) February 28, 2012
An informal survey by a leading career website suggests that many U.S. job seekers are surprisingly optimistic about their job search, but critical of current government job creation efforts and doubtful that this year's Presidential election will dramatically affect their employment prospects.
The online survey was conducted by the career website LiveCareer and questioned over 6,100 users. These users represent people in the U.S. who identified themselves as looking for work during the last two weeks of January. 52% of the survey respondents were unemployed and are part of the staggering 8.3% U.S. unemployment rate as reported by the U.S. Bureau of Labor Statistics last month.
"We frequently survey our users to understand their attitudes toward their job search," says Jamie Freundlich, Co-CEO of LiveCareer North America, "With this being an election year, we wanted to get a sense of how politics might be affecting our U.S. job seekers' attitudes and optimism."
Based on the survey responses, most of LiveCareer's job seekers believe their job search should be significantly affected by the next Presidential election, but do not see this year's winner having a dramatic impact on improving their chances of securing a job.
While 64% of the survey's respondents agreed with the statement that "U.S. job creation is the #1 most important issue in the upcoming Presidential election," only 41% of respondents agreed that "getting a job next year in 2013 will be dramatically affected by who wins the upcoming Presidential election."
Further dissatisfaction was revealed with the respondents' views towards the U.S. government's efforts to boost job creation. Less than 27% of respondents indicated that they were satisfied with current efforts, while 42% indicated that they were dissatisfied. A majority of the respondents voiced their desires to have the government bridge the job skills gap and tended to support multiple approaches for the government to create jobs. 54% said that companies should get a tax break to hire the unemployed. 65% said that the government should provide free job and skills training to the unemployed.
Interestingly, more experienced workers were more critical and more likely to show dissatisfaction with the government's current efforts: 32% of entry-level respondents said they were dissatisfied, compared to 46% of professional-level respondents, 49% of management-level respondents and 57% of executive-level respondents.
"Some data in the survey suggests that our users don't see a strong cause-and-effect connection between politics and the economy," says Freundlich. For example, when asked who they believed was most at fault for the recent recession, 51% of respondents blamed the "economy as a whole." Only 31% of respondents blamed one of the major political parties, while just 13% said they blamed Wall Street. In addition, only 24% of respondents answered that their current employment situation would be a major factor in if/how they would vote in this year's election.
Surprisingly, despite the recent recession, high unemployment rate and perceived results of the Presidential election, respondents were upbeat about their future job prospects. 33% of respondents said they had an "optimistic" outlook toward their job search, while another 35% said they were "very optimistic."
"When you consider that more than half the respondents are currently unemployed, that's an encouraging note," says Freundlich.
Freundlich stresses that this was an informal survey of his company's user base, and is not a statistically accurate poll of the broader U.S. population. "The responses came from a self-selected sample and the responses have not undergone a formal review for statistical significance," he says.
Freundlich says that his company welcomes a deeper review of the survey data by academics and researchers, and would make the data available to qualified researchers. Those wanting a copy of the data can request a copy by emailing survey2012-01(at)livecareer(dot)com.
Freundlich also stresses that his company is non-political. "We just want to help people write a great resume and find good jobs," he says.
About LiveCareer
LiveCareer, home of America's #1 resume builder, is a leading online career destination, helping people create job-winning resumes. With current unemployment rates at an all-time high, the number one hurdle for job seekers is to create a professional resume that highlights their skills and accomplishments, and makes them stand out among the steep competition. Resume Builder innovates the task of resume writing by matching users to hundreds of industry-specific templates and thousands of expert-written examples to help them target their future employers for maximum job-search success.
LiveCareer has been named one of the Top 100 employment websites by Weddle and is featured in Weddle's prestigious 2011/12 Guide to Employment Sites on the Internet. We have helped over 10 million registered users find career success through our cover letter and resume builder products, scientifically validated online career and education tests, salary resources, and a job search engine. Our products are designed with our users in mind; assisting them in every aspect of their careers and helping them make better career and educational decisions to improve their lives.
For more information, visit the LiveCareer website at http://www.livecareer.com.
###