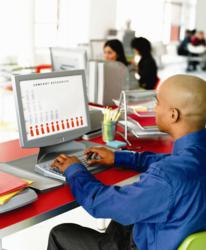 My name is Tommy Turner, and I am an Army vet who was laid off from my job…and wanted to upgrade my Microsoft skills to maintain my employability status.
Berkeley, CA (Vocus/PRWEB) February 17, 2011
Unemployment among veterans of Iraq and Afghanistan took a sudden jump in January from 11.7 percent to 15.2 percent, even as the number for the general population fell to 9 percent, according to numbers released this week by the Bureau of Labor Statistics.
East Bay employment training center Inter-City Services, Inc. (ICS) combats this trend by offering free broad veteran reintegration services, including employment training and job placement services which combine content-based education with hands-on classroom training and modern computer technology. ICS offers veterans rapid response services as well as job placement assistance, post-traumatic stress referrals, GED Preparation, vocational training and other broad-based help.
"The unemployment numbers for Iraq and Afghanistan-era veterans are the highest they have ever been since the Labor Department started tracking. This is absolutely unacceptable. These numbers should be shocking for every single American," said Paul Rieckhoff, Founder and Executive Director of Iraq and Afghanistan Veterans of America (IAVA).
IAVA cites civilians' misunderstanding of skills developed by military service, work disruptions caused by active reserve service, and stigmas associated with mental health treatment and PTSD as top reasons there are so few jobs for veterans. Rieckhoff also told the Army Times that part of the problem seems to be that military transition programs do not prepare veterans for the civilian job market
Employment training center ICS has immediate openings for Bay Area veterans in need of their services. Their East Bay vocational training and veteran job training and services include free classes in Microsoft Office Suite (Word, Excel, Access, PowerPoint), computer repair and installation, construction, medical training sector, e-job prep workshops, adult basic education, and GED preparation.
"My name is Tommy Turner, and I am an Army vet who was laid off from my job…and wanted to upgrade my Microsoft skills to maintain my employability status," says ICS student-turned-teacher Tommy Turner. "I called to inquire about their [ICS's] programs and [they were] exactly what I was looking for to upgrade skills and they are FREE. I registered for the courses and was very pleased with how the classes are conducted; The Open entry Open exit format allow you to start class without waiting for the next class start date to begin. It gives you the feeling of independence and allows you [to] figure out the answer for yourself without feeling a time constraint."
ICS also offers East Bay job placement and job retention services, and post-traumatic stress referrals. There are two certified veteran advocates on staff that are available to answer questions and provide support. The veteran programs have flexible hours, with morning, afternoon, and evening classes available and are unemployment insurance (UI) approved. Veterans are also welcome to participate in any of ICS's other classes, such as their online IT training services and new green technology programs. Their new green job training includes LEED certification and solar installation program.
About Inter-City Services, Inc.
Inter-City Services, Inc. is an employment training facility that specializes in vocational training, solar installation training, online educational programs, employment training, jobs for veterans, and job placement. Inter-City Services serves the San Francisco East Bay Area.
For more information about job training for veterans or any of Inter-City Services employment training services, call them at (510) 655-3552, view them on the web at http://www.icsworks.com/ or visit their facility located at 3269 Adeline Street, Berkeley, CA 94704.
# # #