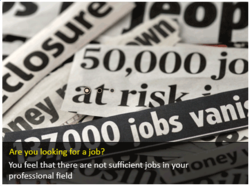 (PRWEB) February 15, 2011
South Plainfield, NJ http://www.JobsTitan.com (Let us Help you, Hired) today introduced a unique Internet based service dedicated to providing expert help to job seekers navigate the tough employment market. The service is built for speed and quality and is designed to create positive responses for job seekers quickly and economically.
The package is extremely significant in light of the double dip recession and tough economic times. JobsTitan service package has been created specifically to assist job seekers overcome common difficulties. By offering a blended service that includes phone discovery, resume creation, cover letter creation and 10 job applications, the unemployed, under-employed and uber-employed segments should get benefits expeditiously.
The expertsat JobsTitan tweak the resume and cover letter for every job application and ultimately increase the chances for a job-seekers success. This is a market where hundreds if not thousands of resumes are submitted to employers for every job application. Only a minuscule number of resumes generate any response at all, let alone an interview. JobsTitan's service is designed by experts who know the market and are continuously studying it to multiply the chances for an applicant's success. JobsTitan's experts will submit a job-seeker to the ten jobs that best suit his/her profile and needs. This is not a service where a job-seeker would be applied to a database administrator if he/she is a program manager.
The model created by JobsTitan allows a job-seeker to concentrate on other elements of a job search that are equally important, as well as personal and professional life that require his/her attention. Job-seekers will get freed up from searching and applying for the "Best available" jobs that exist in the universe. the JobsTitan portal gives a job-seeker access to look at the jobs that he/she has been applied to, and get access to the resume and the cover letter that were submitted.
JobsTitan service package has been affordably priced at $275, so that the benefits of this agile service can be utilized by the masses. In the rock-bottom price, JobsTitan experts engage with the job-seeker through phone and email at every step of the process. The innovative service compares very favorably in terms of expert help and it's pricing in comparison to resume writing services, career management services or job boards.
The Company's blog addresses a myriad of issues encountered by job-seekers and goes in-depth to describe JobsTitan's mechanism of working. The blog posts will continuously reflect the pulse of the employment market. They will include discussions on the latest employment numbers, new models being looked at by JobsTitan and will seek to generate discussions around the needs of job-seekers.
The company plans a whole range of new services through the coming months that will increasingly benefit job-seekers. JobsTitan will look to dispense the services through employers as well to make the offering accessible to as many job-seekers as possible.
About JobsTitan
JobsTitan is a subsidiary of SummitWorks Technologies, Inc., leveraging more than a decade's worth of experience in specialty skills and now broadening into the full spectrum of all skills and experience levels. Having had the experience on both sides of the table, JobsTitan's experts offer the knowledge and insight into what the hiring managers are looking for and accordingly how individuals can market their skills and capabilities more effectively. With a goal to provide a competitive edge, JobsTitan strives to give job-seekers an upper hand.
# # #