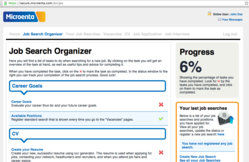 Applicants using Microenta Career avoid the most common job seeking mistakes - resulting in a positive experience
Oslo, Norway (PRWEB) November 04, 2011
Microenta Career™ is now available for all American job seekers at microenta.com. Microenta Career™, which has enjoyed great success in the Nordic nations, will assist American job seekers with the necessary tools and methodology needed to acquire a new, well-suited job in a professional and efficient manner.
Many job seekers lose their motivation after applying for numerous positions only to receive negative feedback. By structuring the search process and handling it in a professional manner, job applicants achieve successful results. "Applicants using Microenta Career avoid the most common job seeking mistakes - resulting in a positive experience," says Lars Martinsen, the founder of Microenta.
The online application Microenta Career™ is a powerful tool for organizing the entire job search process, from its educational guides to its helpful advice. It also helps you create professional resumes and cover letters. The system teaches you how to use your professional network as well as social media in the job search process.
Job seekers who don't know how to effectively use their professional network send out loads of identical resumes and cover letters and lack the preparation needed for successful job interviews. In general, these applicants struggle the most during the job search process. "Spelling mistakes and bad grammar put many applications directly in the rejection pile," says Lars Martinsen.
Microenta Career is an extremely useful alternative to expensive outplacement programs and other costly services. Unfortunately, as many job seekers will find, free tutorials on how to write resumes and complete job applications never help you land that dream job.
All an applicant needs to get started with Microenta Career™ is a PC/Mac/iPad with internet access. The program itself is user friendly and requires a minimum of IT knowledge to use. Microenta Career ™ can also be bought as a gift-card for job seekers in need.
###